New state of the art equipment now available in the MRHA's operating room facilities
The Miramichi Regional Health Authority recently installed two new state of the art pieces of equipment in its operating room facilities. A mobile x-ray unit called a C-Arm and an urological imaging system are now operational. The diagnostic imaging equipment valued at $700,000 was provided to the health authority by the provincial government as part of the 2006-2007 capital equipment budget.
"The c-arm is a mobile x-ray unit," says Russell Whitney, Board chairperson of the Miramichi Regional Health Authority. "The surgeon can actually view the image at the same time he is performing the procedure. For example an orthopedic surgeon can view the insertion of a rod into the leg as the procedure is taking place." He says the regions two orthopedic surgeons primarily use this equipment during their surgical procedures however it can also be used with other procedures such as pacemaker placement. The total cost of this equipment is $250,000.
The urological imaging system is used by the urologist in performing surgical procedures in the operating room. "This system has many advantages that include obtaining a complete view from the kidneys to the bladder without moving the patient or repositioning the equipment," says Gary Foley, president and CEO. He says the system not only meets the needs of the patient but also the urologist in providing patient care. The total cost of this equipment is $450,000.
"Investing in new, state-of-the-art medical equipment is an important component of providing quality health care to New Brunswickers,'' said Health Minister Michael Murphy. "The investment we have made at the Miramichi Regional Hospital is further evidence of our commitment to its ongoing role as a regional hospital serving the people of the Miramichi.''
"We are pleased with the investment of funds to provide our patients with the most up to date state-of-the art diagnostic imaging equipment in our operating room facilities," says Whitney. "He says the equipment provides the surgeons with more clear diagnostic images that better able them to enhance patient care services."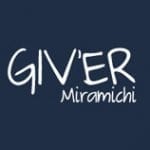 Giv'er Miramichi is about "What's up, what's new, what's happening". We are focused on building people up, supporting one another and celebrating our successes.