Proving How Great Canadian Kids Are
Today, to conclude International Youth Week, educators, child-focused organizations, issue experts, healthcare workers and parents will meet to try and change the way Canadians view youth to a more positive light at the third Helping Canadian Kids Thrive! Conference. The conference will highlight success stories to illustrate how great Canadian youth are and how easy it is to provide them with opportunities with meaningful participation in society so they can excel.
International Youth Week is a celebration of the positive contributions that youth make in their communities. "What a perfect time for all of us to recognize that the majority of children are good and doing good things." says Joanne McQuiggan, Executive Director of Thrive! The Canadian Centre for Positive Youth Development. "This is a gathering of people who have success stories to prove that focusing on children's strengths is far more productive than always trying to fix what's wrong."
The conference comes in response to the ongoing focus on the shortcomings of our youth, such as bullying, substance abuse and other destructive behaviours. As the vast majority of children do not exhibit such behaviours, many people see the event as being long overdue. Craig Keilburger, Founder and Chair of Free the Children that has involved over one million children and youth in advocacy projects around the world says, "Children are making the wise decisions, leading by example and making a difference in their peer groups, communities and around the world every day. It's time for people to stand up and recognize the things that our youth are doing right."
Celebrating youth is only part of the conference objectives however, as children cannot continue to succeed without effective support systems that bring out the best in them. Conference participants will also be provided with easy-to-use, research-proven tools that any adult can use to fully engage youth in positive behaviours and community involvement.
The Miramichi organizing committee is extremely proud to be hosting the Thrive! Conference. "We consider this conference to be a celebration," says Mary Lynn Jardine, Youth Recreation Coordinator, City of Miramichi. "It is a celebration of our efforts to promote MY MIRAMICHI. MY MIRAMICHI is a great place to live work and play. Our service providers, our schools, business, our parents and the youth themselves have embraced the concept of positive youth development. The Miramichi region has been working to reshape its future by promoting strength focused initiatives. "My new motto is that we work with youth not for youth. And I am most proud of the high number of youth delegates and volunteers participating in this year's conference." The local committee has left no detail to chance; the Conference Delegates will experience true Miramichi Hospitality.
As well, conference participants will learn about Lions Quest programs – award-winning personal and social skills programs for young people that have helped more than six million students ages five to 18 reach their full potential. One of the unique aspects of Lions Quest programs is instruction in the concept of service-learning. This valuable teaching method enhances what is taught in the classroom by providing students with opportunities to use newly acquired skills and knowledge in real-life situations in their communities, which help to develop personal and social responsibility.
The delegates at the Helping Canadian Kids Thrive! Conference believe its time for all Canadians to gain access to these tools, and to commit to using them, while celebrating and nurturing our youth leaders. "In light of all the great things about our kids, I find it difficult to see how any Canadian could not see their glass as being full." says Joanne McQuiggan. "But there is still ongoing work to be done. Whether you're a parent, teacher, community member, or neighbour – it's up to all of us to make sure that kids have what they need to be their best."
For more than twenty years, Thrive! has provided products, workshops, services and curriculum resources to support adults in helping young people deal with the complex issues they face every day. The mission of Thrive! is to provide leadership, knowledge and resources to develop healthy capable young people of strong character, by working with individuals, agencies and organizations both in Canada and abroad to give Canadians access to the best possible positive youth development resources and training experiences.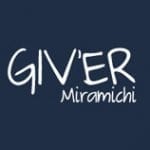 Giv'er Miramichi is about "What's up, what's new, what's happening". We are focused on building people up, supporting one another and celebrating our successes.