Service now available to help with kidney stones
Lithotripsy treatment is now available in the Miramichi. Shock wave lithotripsy treatment is used to break up kidney stones so the stones can be passed more comfortably by the patient. The service is available every six weeks through the outpatient clinic department at the Miramichi Regional Hospital.
"The treatment involves having an x-ray and/or an ultrasound that finds the exact location of the stone," says Dr. David Cronje, Miramichi urologist. "The lithotripsy treatment then sends shock waves to the location of the stones and breaks them up into small pieces making them much easier and less painful for the patient to pass."
Robert Doucette was one of the first patients to receive lithotripsy treatment at the Miramichi Regional Hospital
Dr. Cronje says this procedure is not only more comfortable for patients but they no longer have to travel outside the region to receive this treatment. "In the past, I have referred my patients to other regions in the province to receive this service. Now they can receive it in their own community."
The procedure can take up to thirty minutes to complete. The lithotripsy technologist, a registered nurse with the outpatient clinics department, and urologist are all present during the procedure.
The mobile lithotripsy treatment is operated by United Medical Systems and travels to each regional hospital in the province of New Brunswick and hospitals in Prince Edward Island. Funding for this service is being provided by the Department of Health.
The service began at the Miramichi Regional Hospital on Friday, April 13. Nine patients have received the service in the Miramichi since its implementation.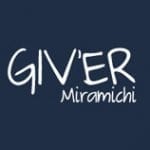 Giv'er Miramichi is about "What's up, what's new, what's happening". We are focused on building people up, supporting one another and celebrating our successes.