Overwhelming registration for Mango Kids Fun Run
Over 700 children are now registered for the Mango Kids Fun Run happening July 8.
This fun run completes the Go for 42 program which took place in area schools from May 14-June 11. This program saw children from kindergarten to grade 8 completing a 40 km of a marathon over a 4-week period. The final 2.2 km of the marathon will take place July 8.
Children completed the first 40 km of this marathon with their classmates and teachers. For each 5 km they walked or jogged, the children received colorful shoe tags. The children had to pre-register for the final run on July 8 with their parent's signature.
The fun run will begin at the Lindon Recreation Centre where registration for the event will begin at 9:30. It will follow King George Highway up to intersection by the House of Wong. Turning left, it will continue and turn left onto Pleasant Street. The children will continue down Pleasant by the City Hall to McCullum Street and ending at the Kin Centre.
Many partners have worked together to bring this initiative to the Miramichi region. They are: Mango, Partners for a Drug Free Miramichi, MACY, NB Medical Society, Miramichi Police, School District 16, Dept of Wellness, Culture and Sport, MAPP. Aliant is also sponsoring the event by providing medals for each child finishing the July 8 run.
"This is a great example of the community coming together to encourage our children to be active," says Jacqueline Noseworthy, Mango coordinator and dietitian. "We are pleasantly surprised with the number of participants who have registered for the event on July 8."
Noseworthy says she is proud of the children and their parents for seeing a need to be physically active, no matter what age. "Mango is in the schools with the Mango Mania challenges and now the Go for 42, we are seeing many kids starting to take on the responsibility of putting physical activity into their daily lives. That's a great thing."
The Mango Kids Fun Run coordinating committee would like to advise participants of several points of important information before the event on July 8.
If your child is pre-registered, they must pick up your registration kit and t-shirt on July 8 at the Lindon Recreation Centre between 9:30 am until 10:45am.
Race begins at 11am
Only children who pre-registered at their school will receive a free t-shirt
All children who finish the race will receive a medal
Parents: please do not remove your child from the run until they cross the finish line, unless you inform one of the fun run volunteers.
No bikes allowed along run route
Children should remember to apply sun screen, wear appropriate footwear and bring a water bottle.
Parents must be at the finish line to pick up their children. The approximate time for the event will be 20-40 minutes.
The public is encouraged to gather along the fun run route to cheer on the children. For more information, please call the Mango office at 627-7564.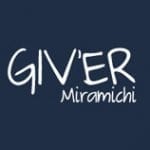 Giv'er Miramichi is about "What's up, what's new, what's happening". We are focused on building people up, supporting one another and celebrating our successes.