Miramichi Community Chaplain presented the Community Star Award from Addiction Services
Every year Addictions Awareness Week is recognized nationally during the third week of November. During the week Miramichi Addiction Services presented their Community Star Award to Miramichi Community Chaplain Gordon Green.
Cynthia MacDonald, Manager of Miramichi Addiction Services says the Community Star Award is presented to a 'star' in our community, who goes above and beyond and is making a difference in the area of drug and alcohol awareness. She says Green was a natural choice as his interactive spiritual presentations and individual one on one sessions have made a real difference with addiction clients. "The people who know him use the words inspirational, dedicated, giving, kind, generous, respected, knowledgeable, leader, spiritual and friend to describe him." Clients present for the award ceremony echoed MacDonald's praise by giving him a standing ovation.
Green says he is humbled by being the recipient of the award and thanked God for allowing him to work with those who are most in need. "I can relate to the pain experienced by those I work with and know there is healing for that. I enjoy being part of this process."
Green is a member of the Partners for a Drug Free Miramichi committee and was also instrumental in the planning of the Community Prayer Vigil in September that brought hundreds of Miramichiers together to pray for those who are experiencing pain and hardship due to addiction.
Green's Miramichi Community Chaplaincy is an inter-denominational ministry dedicated to helping meet the needs of ex-offenders and their families during their period of reintegration to society and the faith community. "We seek to establish a network with other ministries, institutional and community chaplains, the various faith groups and community services," says Green. He says he has been providing spiritual care to those in need for the past eight years. His work allows him to work closely with individuals in the community who are receiving addiction services.
For more info., contact Sonya Green-Hache, communications coordinator at 506.623.3003.
Photo: Cynthia MacDonald, Manager of Addiction Services presents Community Chaplain Gordon Green with the Community Star Award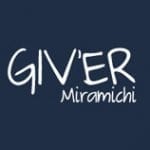 Giv'er Miramichi is about "What's up, what's new, what's happening". We are focused on building people up, supporting one another and celebrating our successes.