Miramichi's FatKat Animation Part of Frye Festival Workshops in Moncton
Aspiring writers can study their craft with the masters at the 2008 Frye Festival.
Workshops, led by such literary celebrities as award-winning novelist and screenwriter Russell Banks, headline Moncton's annual celebration of words, April 23-27.
These unique learning experiences will be offered to students of various genres, from poetry and playwrighting to storyboarding and screenwriting.
The festival's workshop series begins with a two-hour class on playwrighting, presented by Shediac playwright Don Hannah, at Théâtre l'Escaouette, April 24, at 9 a.m. Registration fee is $15. St. George writer Robert Rayner will deliver a workshop for adults writing for children at the Moncton Library that afternoon, starting at 1:30 p.m. Cost to participate is $10.
Russell Banks' film writing workshop is among event highlights on April 25. His class begins at 9 a.m. at the Théâtre l'Escaouette and is a joint presentation of the Frye Festival, Enterprise Greater Moncton and Film New Brunswick. Cost is $35. To guarantee your participation, pre-register now by calling 506-859-4389 or emailing .
Jo-Anne Elder and Paris poet Jacques Rancourt will co-present a creative writing workshop in French that afternoon beginning at 2 p.m. at l'Alliance française, while Nova Scotia poet Peter Sanger will deliver a poetry workshop in English at the same time at the Moncton Public Library. Registration fee for both events is $10.
On Saturday, April 26 St. John's poet Mary Dalton and Montreal poet and novelist Rachel Leclerc will lead poetry workshops in English and French, respectively, at the Moncton City Hall and the Dieppe Public Library, beginning at 9:30 a.m. with a $10 charge to participate.
And we can't forget our youngest writers! Local cartoonist Eric Dyke will present a Creative Comics workshop in English and Diane Léger will present a Creative Writing workshop in French. Both workshops are for 8 to 10-year-olds and will take place at 10:00 a.m. at the Moncton Public Library. Both are free.
Workshops continue that afternoon with a presentation on chaotic creativity by members of the South East New Brunswick Chapter of Professional Writers Association of Canada at the Moncton Public Library, beginning at 1:30 p.m. Cost to take part is $10.
Miramichi's Fatkat Animation will share the tools of the animation trade during a storyboarding and writing workshop at Mad City Comics, starting at 2 p.m. The fee to register is $15.
To register for these workshops, call the Frye Festival office at 859-4389, email or check out all the details at www.frye.ca.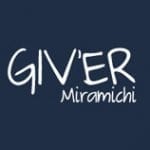 Giv'er Miramichi is about "What's up, what's new, what's happening". We are focused on building people up, supporting one another and celebrating our successes.