New Health Promotion Strategy to be Piloted in Miramichi
After being chosen as a demo site for the in motion strategy, Miramichi is forging ahead to unveil this new health promotion strategy to get our community living a culture of healthy lifestyle and daily physical activity.
In May Miramichi was selected as a demonstration site to pilot New Brunswick's new health promotion strategy, in motion. In motion is an evidence-based strategy used to engage community partners to support positive change and motivate citizens to experience the benefits of healthy, active living every day.  The in motion strategy has been successfully implemented in other communities across Canada.  Its success is due in part to the fact that it uses targeted strategies which focus on specific segments of the population.
Since being selected as a demonstration site, a Miramichi in motion steering committee has been formed.  This committee is a partnership of the Horizon Health Network, the City of Miramichi, and School District 16.  "The committee has been very busy over the last few months getting the background work done required to implement the strategy" says Allison Holland.  Holland is the Wellness Coordinator for the Miramichi Region and is overseeing the implementation of the in motion strategy in Miramichi.  "Our steering committee is getting excited now that the launch date is drawing near."  The official launch for Miramichi in motion will take place on October 15 from 6:30 – 7:30 on the Golden Hawk lawn next to Maher Street in Chatham (rain location – Golden Hawk gym). "The launch will be a fun event," says Holland.  "Some of our local ambassadors will be present and there will be prizes, a fun warm up, and a community walk."
For the first year, the demonstration sites piloting in motion in New Brunswick were asked to choose two targeted strategies to implement.  The Miramichi in motion steering committee has chosen the strategy for children/youth and older adults.  "These are the two populations we are targeting for our first year," says Holland, "however, the goal is to implement all of the in motion targeted strategies in the years to come to provide comprehensive health promotion for our entire community."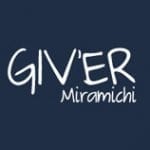 Giv'er Miramichi is about "What's up, what's new, what's happening". We are focused on building people up, supporting one another and celebrating our successes.