Dessert Theatre: Icing on the Cake
On Wednesday us Mighty Miramichiers enjoyed an evening of dessert, tea, fudge, and entertainment presented by the Heritage Players & Miramichi Folksong Festival.
The show featured stories and musical impersonations of guests who have performed at the Folksong Festival such as, Rita MacNeil, Men of the Deeps, Tommy Hunter and Stompin Tom to name a few. It was directed and produced by Bernie Colepaugh of the Heritage Players.
The Heritage Players have been developing quite a following throughout the Miramichi Region, bringing the stories of the past alive in a way that is funny, entertaining, and appeals to everyone, young & old.
Cast members were: Jeff Wilson, Christina Donovan, Davey Wilson, Noah Donovan, Junior Hubbard, Matthew Stewart, Shawn McCarthy, Dorinda Glover and Connie Colepaugh.
Musical impersonations were performed by:
Valdy – Brad Donovan
Rita McNeil – Susan Butler
Men of the Deep – The Sutton Brook Songers
The Rankins – The Gillis Family
Graham Townsend – Danny MacVicar
Stompin' Tom Connors – Wade Hallihan
Wilf Carter – Jack Green
Buffy Ste. Marie – Christina Donovan
Tommy Hunter – Dale Manderville
Making up the house band was
Greg Donovan Jr., Donny Savoie, Bradley Brophy and Jack Green
All the performers did exceptionally well, and had the sold-out crowd clapping their hands and singing along.
Susan Butler  brought laughter andcheers from the audience with her spot-on impersonation of Rita McNeil.  And for the finale, Wade Hallihan brought the house down with his foot-stompin rendition of Bud the Spud by Stompin' Tom Connors – complete with a sheet of plywood!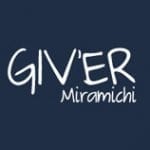 Giv'er Miramichi is about "What's up, what's new, what's happening". We are focused on building people up, supporting one another and celebrating our successes.