Miramichi Fishing Report for July 28, 2011
As we prepare to move into August, angling continues to be on the positive side. We've had tremendous runs of both grilse and salmon, water levels and temperatures have been very positive for the most part, and there are still decent numbers of fresh fish entering the system daily. The Cassilis counting fence on the Northwest was averaging less than 10 grilse and less than 10 salmon a day this past week, while Millerton on the Main Southwest was averaging30 grilse and 15 salmon daily.
W. W. Doak and Sons in Doaktown said angling had eased a bit from the spectacular we had in recent weeks, but still remains on the good side, especially for the time of year.  Water conditions are close to ideal, and most anglers are having some success.  Catches have been a mix of salmon and grilse, with more of the latter.
Flies of choice were White-tailed Green Machines, Black Bugs, Undertakers, Same-Thing-Murrays and Glitter Bears on nos. 6 & 8s in wet flies.  Many are switching to Bombers such as brown with orange hackle and white tails and other varieties.
Derek Munn of Ledges Inn in Doaktown and Mountain Channel in the Rapids area said angling had slowed somewhat, but they were still catching fish every day.  One pool at the Ledges produced four on Wednesday morning, while Mountain Channel counted six on Tuesday.  On Sunday they caught eight fish between three rods.  There was the odd salmon, but the majority of catches were grilse.  They had received an unexpected amount of rain on Wednesday, so he felt the river would rise a fair bit, but it had been both a good height and temperature on Wednesday.
Flies of choice were Christmas Trees (one angler limited out on this one) and Black Bugs on no. 8 hooks in wets, along with a variety of Bombers and Dry Flies.
Herb Barry Sr. of Herb's Fly Shop on the Station Road in Blackville said angling there was only fair.  There were good numbers of fish around, but not taking well.  You had to really put the time in to be successful.  The only very good spot was the Cains River which was fishing well.  Herb decided to multi-task this past week.  While fishing, he also decided to take a bath as well, so if you see him heading to the river with a towel under his vest, you'll know why.
Flies of choice were Shady Ladies, White-tailed Green Machines, Green Rats, Blue Charms and Same-Thing-Murrays on no. 6 with some 8sw in wets, and Killer Whiskers (my favourite with a blue butt).
Curtis Miramichi River Outfitting in Blackville said angling was still fairly good with some being caught, but not the numbers of the last two weeks.  There were good numbers around, but not as active as anglers might like.  They had received a small raise in water early in the week.  Catches were a good mix of salmon and grilse.  Canoeing conditions were perfect.
Flies of choice were White-tailed Green Machines, Undertakers, Blue Charms and Green Rats on nos. 6 & 8s in wets, along with a variety of Bombers.
George Routledge of George's Fly Shop at the Mouth of Renous in Quarryville said angling was slow with only a few being caught.  He described fishing as average to good.  There had been a 4-inch raise in water, but heavy rain in the upper stretches Wednesday will bring the levels up over Thursday and Friday.  He felt the weekend should offer better angling.  There were more grilse than salmon.
Flies of choice were Shady Ladies, White-tailed Green Machines, Green Machines, White-tailed Shady Ladies and Black Ghosts in wets with more anglers starting to use Bombers such as green with white tails and orange hackle.
Jim Laws of Miramichi Hunting and Fishing in Newcastle, Miramichi reported angling as still on the positive side, noting that we have had unbelievable runs in the recent weeks.  There were more grilse than salmon.  Water conditions were good, but a nice raise in water would help.
Flies of choice were White-tailed Green Machines and Shady Ladies along with a good selection of Bombers.
Syd Matchett of Trout Brook Fly Shop on the Northwest Miramichi said angling there was a bit quiet, with not a lot of new fish coming in.  However, the Crown Reserve stretches such as the Crawford and Depot were fishing well.  A good rain would liven things up again.
Flies of choice were small Bugs with white tails, Shady Ladies and White-tailed Green Machines on nos. 8 & 10 hooks.
Debbie Norton of Upper Oxbow Outdoor Adventures on the Little Southwest Miramichi said they were having pretty good fishing.  Jimmy Laub of Kutztown, Pa. limited out on salmon on Tuesday, while there were a couple more caught by other anglers.  Bob and Malinda (of Malinda's Fly Shop on Salmon River in Polaski, NY) also had good fishing.  The water level was good, but dropping and Tuesday's water temperature was in the mid 60s Fahrenheit.
Flies of choice were Will Taylor Specials, and Green Rats.
So, with fresh fish still coming in daily and decent water conditions, take time to get out and "on the water".  And don't forget to try a "Carter's Bug".
__________________________________________________________________________
Don't forget to show your support for our sponsors, because without them, this column would not be possible. If you can't get there yourself, send your friends! Tell them you appreciate their support of the column!
Ever dreamed of having your own cottage on the Miramichi? Now you can win one, but you have to hurry! Draw date is tomorrow, Friday July 29th. Or you could always take the $50,000 cash instead! Click here for details!
Check out Deals 4 U in Miramichi for your grocery needs, and a very good selection of Cuban cigars to celebrate being on the rivers. Also check out their weekly specials.
Drop into Bryant Freeman's Eskape Anglers in Riverview to stock up on flies as well as any other equipment you may need such as a Redington Rod. Don't forget that this is the home of The Carter's Bug tied only the way that Bryant can tie it!
__________________________________________________________________________
Thought for the Week: "If people concentrated on the really important things in life, there'd be a shortage of fishing poles." ~Doug Larson
Humour: "Fishing is like sex, the more you do it the bigger stories you tell." Anon.
Atlantic Salmon Federation News
July 20, 2011
ASF RIVER NOTES has the latest update on Atlantic salmon RETURNS
~~~~~~~~~~~~~~~~~~~~~~~~~~~~~~~~~~~~~~~~~~~~~~~~
The latest salmon counts are in. While temperatures are rising, the salmon numbers continue to astonish and deserve one's attention.
http://atlanticsalmonfederation.org/rivernotes/
Appeal of Aquaculture Cage Site Approval Raising Important Questions
~~~~~~~~~~~~~~~~~~~~~~~~~~~~~~~~~~~~~~~~~~~~~~~~
The Legal Appeal to the Nova Scotia Supreme Court by the Atlantic Salmon Federation and community groups regarding a proposed salmon farm in St. Mary's Bay has generated interest beyond that province, as it raises issues of the impacts of aquaculture and the rights of the community in the decision process. Read more:
http://asf.ca/news.php?id=721
Poll Says 71% Do Not Want Salmon Farm in St. Mary's Bay
~~~~~~~~~~~~~~~~~~~~~~~~~~~~~~~~~~~~~~~~~~~~~~~~
After a month online, the results are in for a CBC Poll on aquaculture cages in southwest Nova Scotia, and more than 1,300 responded.
http://asf.ca/news.php?id=723
Newfoundland Poaching Cases Highlight Impact on Salmon
~~~~~~~~~~~~~~~~~~~~~~~~~~~~~~~~~~~~~~~~~~~~~~~~
Three poaching cases highlight the impact on Atlantic salmon of illegal activity in the province.
http://asf.ca/news.php?id=720
Genetically Modified Salmon Can Breed in the Wild
~~~~~~~~~~~~~~~~~~~~~~~~~~~~~~~~~~~~~~~~~~~~~~~~
Researchers have now raised another concern about GM salmon – the males could breed in the wild.
http://asf.ca/news.php?id=722
To keep track of breaking news on wild Atlantic salmon, use the Atlantic Salmon Federation's presence on Facebook. Log in, search for Atlantic Salmon Federation, and click "like".
ASF's Webworks is an updating service on the world of the wild Atlantic salmon. If you wish to be added or removed from the list, email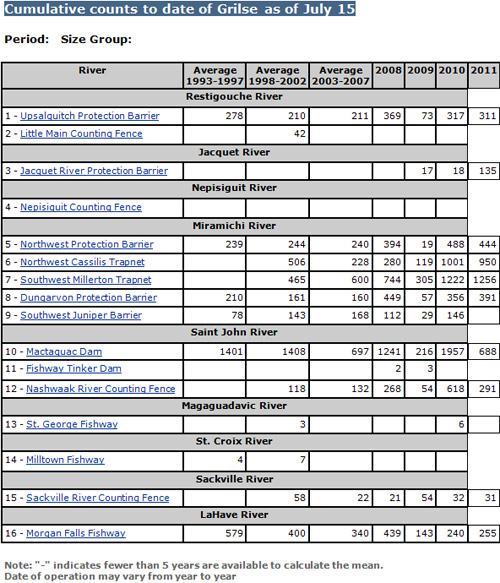 __________________________________________________________________________
Please read the attached file in regard to a fundraising event that is being held at the Atlantic Salmon Museum to honor George Routledge and to raise money in support of our summer camp.  George is a 'best friend' to our summer camp program "Come Play on Our River".  We hope you can attend & please circulate this message to your contacts.
Thank you for your support & hope to see you on August 19th.
Friday August 19th – Reception @ 5:30pm – Dinner @ 6:30pm – consisting of a fresh green salad, stuffed chicken breast, rice medley, seasonal vegetables, tea/coffee & Georges favorite dessert – strawberry shortcake!
TICKETS – $50.00 including a $25.00 tax receipt
Call – 365 7787 or Email – for tickets & information
IT'S FOR THE KIDS
An Atlantic Salmon Museum Fundraiser for the 'Come Play on Our River' Summer Camp
HONORING GEORGE ROUTLEDGE
George started tying flies after his first year of fishing and like all new fly tiers he thought he was going to add a great number of new flies to the history of Fly Tiers. He did design a couple which he can call his own. (1) Georges Renous Copper, and (2) Black Bear Hackle and Squirrel, developed by himself and Marc Madore of Blackville. These two flies are included in Paul Mariner's book, "Modern Atlantic Salmon Flies". George's favorite fly is "The Butterfly".
George credits his years in the military with his heart felt belief that people should be treated the way he would like to be treated. George's shop is a real meeting place for many people who visit regularly, and who share his feelings "that fishing is more than catching a fish, it's just being on the river with friends".
George has a story on his wall about Ted Williams being inducted into the Baseball Hall of Fame. The inscription reads, "George ties my flies".
He is especially interested in the young people who come into his shop and purchase materials for fly tying and also for advice. He adds up their purchases and divides the total in half. He loves to see young people on the river fishing.
George has been extremely generous with various gifts to our Salmon Museum – especially in supplying rods, and materials for fly tying to our ecological summer camp, "Come Play on Our River", which we operate each summer. A children's summer camp has been in operation since the inception of the museum, having been renamed several times.
To keep this amazing award winning camp going we are finding ourselves in need of funds to sustain it.
George has received a "Friend of the River" award from the North West Salmon Protection Association. George's generosity, his comfortable way of treating his customers, and his outstanding success in the profession he loves, has earned him the title he is often known by, "THE MAN AT THE MOUTH". It is indeed our pleasure to honor him on August 19, 2011in the River Room, at the Atlantic Salmon Museum, 263 Main Street, Doaktown, NB.
If you wish to say a few words on George's behalf or if you have memorabilia that you can loan the museum for this special event, please inform Linda. Tickets are now available.
THANK YOU FOR SUPPORTING GEORGE'S PASSION & AS HE ALWAYS STATES: "IT'S FOR THE KIDS!"
Until next week,
TIGHT LINES,
DOUG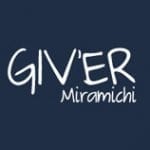 Giv'er Miramichi is about "What's up, what's new, what's happening". We are focused on building people up, supporting one another and celebrating our successes.