Straight Talk about Fitness & Weight Loss
Paul Plakas delivered a motivational seminar yesterday to an audience of approximately 140 people at the Douglastown Community Centre.
As a personal trainer and owner of "Custom Fit", a personal training studio, Paul is well-known for his appearances over the past 9 years on the Gemini Award Winning weight-loss documentaries X-Weighted and Taking It Off, seen on the Slice Network.
Paul has a very common sense and straight forward approach to weight-loss, nutrition and physical fitness. Throughout the seminar he demonstrated simple exercises that anyone can do at home, the gym or even in their backyard, using their own body weight and hand weights. He encourages exercises that will benefit people in their daily lives and make them stronger in the activities they do each day whether its playing hockey, carrying clothes baskets up the stairs, or sitting hunched over a computer.
Paul also discussed the harmful effects of packaged processed foods and fast-food takeouts, encouraging everyone to eat REAL food and stay away from the center isles in the grocery stores. He discussed flavourists or flavor chemists (something this blogger hadn't heard about before!) and the large part they play in creating the flavours in packaged & processed foods. The next time you order a fastfood strawberry milkshake or eat a frozen blueberry waffle check to see if there is really fruit in it, or something cooked up in a lab by a flavourist!
Quote of the day "Sometimes people ask me if it is okay to eat fast food once in awhile, and I say well, is it okay to drink Draino every now & then"? – Paul Plakas
Among the participants were teams from the newest Mighty Miramichi Biggest Loser Contest 3. Congratulations to all of you as you begin your journey.
On behalf of all who attended the seminar,  a special thank you to Tobi Desveaux for organizing the event. Learn more about Paul Plakas at www.paulplakas.com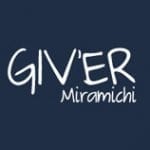 Giv'er Miramichi is about "What's up, what's new, what's happening". We are focused on building people up, supporting one another and celebrating our successes.