She is …
Caring & compassionate. Generous & giving.
There in a heartbeat. No questions asked.
Strong & powerful. Influential & admired.
Best advice given … with or without words.
Creative & imaginative. Storyteller & secret keeper.
True friend to all who are blessed to know her.
Baker & doughnut fryer. Cook & cake maker.
Proud moments when everyone is full.
Babysitter & taxi-driver. Nurse & therapist.
Next generation's "go-to-gal".
Volunteer & fundraiser. Organizer & supporter.
Takes on the cause with all her heart.
Spiritual & open. Believer & faithful.
Sees & hears the whispers from beyond.
Daughter & sister. Aunt & cousin.
Proud grandmother of a wonderful five.
She is all of these … & so much more.
With pride I describe her as … Mom.
– Sherry Sturgeon, Barnettville NB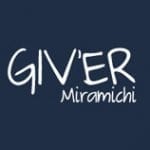 Giv'er Miramichi is about "What's up, what's new, what's happening". We are focused on building people up, supporting one another and celebrating our successes.