President & CEO among Top 50 CEOs in Atlantic Canada
Horizon Health Network is pleased to announce Donald J. Peters, President and CEO was honored last week for the third consecutive year by Atlantic Business Magazine as one of Atlantic Canada's most accomplished leaders.
The Top 50 CEOs in Atlantic Canada award is based on the nominee's corporate, community and industry involvement; their company's growth in recent years; and their responses to various managerial challenges. Peters received his award at the Atlantic Business Magazine's Award Gala in Halifax on May 9.
"We are very proud of Donn's accomplishment of receiving this important award," said David Ferguson, Chair of the Board of Directors for Horizon Health Network. "The recognition is a testament to his ability to successfully lead Atlantic Canada's largest health-care organization and his commitment to maintain the high-quality standards of health-care delivery to patients in New Brunswick, Prince Edward Island and northern Nova Scotia."
Peters has been President and CEO of Horizon Health Network since its development in 2008. He previously held the position of President and CEO of the South-East Regional Health Authority based in Moncton, NB since 2000. Peters has a Bachelor of Science degree and a Diploma in Engineering from St. Mary's University and a Bachelor of Industrial Engineering degree from Technical University of Nova Scotia. He holds a Diploma in Health Care Organization and Management from the Canadian Hospital Association and is a member of the Canadian College of Health Leaders.
Horizon Health Network is the largest health-care organization in Atlantic Canada, operating 12 hospitals and more than 100 medical facilities, clinics and offices providing medical services ranging from acute care to community based health services to New Brunswick, northern Nova Scotia and Prince Edward Island. With 1,000 physicians, an annual budget exceeding $1 billion and approximately 13,000 employees, Horizon Health Network's strategic vision focuses on research, innovation and education.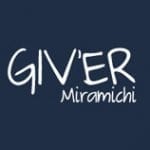 Giv'er Miramichi is about "What's up, what's new, what's happening". We are focused on building people up, supporting one another and celebrating our successes.