September Nutrition Events at Sobeys Douglastown

It's hard to believe that summer is almost over and we are planning for fall already!
Here is the schedule of nutrition events happening at Sobeys Douglastown in September. There is lots to choose from! Check out the dates and times for our 10 week Healthy Weight program, Kids' Cooking, Healthy Cooking and more!
The theme for this month's Healthy Cooking class is "herbs and spices". On the menu:
Pesto Pasta Salad
Herbed Shrimp Skewers
Roasted Spiced Vegetables
If you have any questions or would like to register for a class contact Dietitian Margaret Young by email at , call the store at (506)778-2404, or leave a message on Margaret's voicemail at 1-866-546-9239.
Douglastown Nutrition Events – September 2012
Healthy Cooking ($15)
Enjoy a delicious meal prepared by our chef and get nutrition tips from our dietitian.
Friday, September 7th, 5pm-7pm Space is limited. Register early!
Label Reading Tours (Free)
Confused about food labels? Take a tour with the dietitian and learn what's inside the foods in your grocery store.
Tuesday, September 11th, 10am-11:30am or Tuesday, September 25th, 1pm-2:30pm
What To Do With … Greek Yogurt (Free)
You've heard the buzz, but what's the big deal? Join our dietitian to learn how to use Greek yogurt in your kitchen.
Recipes and samples provided!
Friday, September 14th, 12pm-1pm Join us on your lunch break!
Healthy Weight (Free)
Tired of losing weight and gaining it back? Join our 10 week program and learn how to lose weight the right "weigh"!
Program starts Saturday, September 15th, 10am-11:30am
Diabetes Basics (Free)
Do you or someone you know have diabetes or prediabetes? Come learn what and when to eat to manage your
blood sugars.
Tuesday, September 18th, 10am-11:30am
Kids' Cooking (Free)
Bring your little chefs to the Sobeys kitchen for a fun cooking class. Open to children of all ages accompanied by an adult.
Saturday, September 22nd, 2pm-4pm Space is limited. Register early!
To register, visit our courtesy desk or call Dietitian Margaret Young 1-866-546-9239 (voice mail) or (506)778-2404 (store).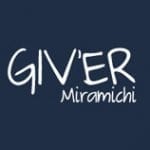 Giv'er Miramichi is about "What's up, what's new, what's happening". We are focused on building people up, supporting one another and celebrating our successes.