The Women of Miramichi Entrepreneurial Network (WOMEN) has announced it will hold a "Women of Influence Night" on December 1, 2012 at Rodd Miramichi River Hotel. WOMEN is Miramichi's only female entrepreneurial network serving the greater Miramichi area.
"Women of Influence Night" will be the WOMEN network's first Awards Ceremony and will feature several award categories, all designed to applaud Miramichi area women for their accomplishments in both career and personal lives.
Reminder that Nominations close on Friday, October 5th at noon. Don't miss the opportunity to nominate an amazing Woman of the Miramichi.
Nominations will be received by the public in the categories of Female Entrepreneur of the Year; Female Professional Excellence Award and Women of Influence. Details of each award can be found at www.womenofmiramichi.com
Nominations can be completed online or printed from the website. Nomination forms can also be picked up at Genesis Salon & Spa, 253 Mary Street; Cathy's Alterations, 20 Fountain Head Lane and Country Floral, 1757 Water Street.
A selection committee will peruse the nominations and three finalists in each category will be announced on or before October 19th. The winner in each category will be revealed at the Awards Ceremony on December 1st.
The group will also hand out two other awards which will be chosen by the Board of Directors: WOMEN Member of the Year and Young Woman of Influence Award.
The ambition of the WOMEN network is to develop strategic partnerships to further strengthen support and active assistance. Through networking and training opportunities, WOMEN aims to accomplish its vision and mandate of empowering women in their workplace.
"Since our goal is to empower women in Miramichi, we wanted to hold an evening to congratulate achievements and honor the women who inspire and encourage," says Helen Ward-Wakelin, President of WOMEN. WOMEN's board of directors is made up of a president, vice president, secretary/treasurer and five directors.
For more information on this event, please contact Paula Matchett at (506) 836-9946 or email .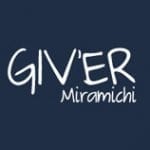 Giv'er Miramichi is about "What's up, what's new, what's happening". We are focused on building people up, supporting one another and celebrating our successes.