27th Annual Parade of Lights in Historic Chatham Business District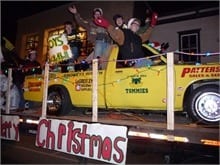 The DowntownS Miramichi-Historic Chatham Business District played host to record number of participants and spectators at the 27th Annual Parade of Lights held on Friday December 7th, 2012.
The Parade started promptly at 6:30 from the NBCC Miramichi parking lot with the assistance of the Miramichi Fire Department coordinating the marshalling of the parade.
Many entries embraced the 2012 Parade of Lights theme "Unwrap the Magic in our DowntownS". The judges for the event were City Councillor Peggy McLean, Reggie Flynn and Kevin Gibbs. They were amazed by the effort and creativity of the floats and horses.
As the parade passed by the Mount St. Joseph, one could see the joy as the seniors watched and waved from inside. The parade continued through the Historic Chatham Business District as the traffic was controlled by the Miramichi Police Force and NBCC Police Foundation students. Once the parade reached Water Street, France Leveque provided information on the entries and announced the winners as they passed by.
Best Overall – City of Miramichi
Commercial Large – Rodd Miramichi River
Commercial Small – Boston Pizza
Organization Small – Miramichi Outback Trail Runners ATV Club
Organization Large – James M. Hill Memorial High School
Open Small –Poirier Family Triplets
Open Large – New Brunswick Department of Transport
Horses –Gayle Govereau
In addition to the float entries the Miramichi Leader and the Miramichi Assessable Transit teamed up to collect non-perishable food items for the Christmas Hampers. Once again the kindness of Miramichiers and area was very much appreciated.
Canada Post Letter carriers also collected letter for Santa, and will be ensuring they get mailed to the North Pole in a timely fashion.
As the bright colours, music and festive excitement escalated Santa was the highlight as he concluded the 27th Annual Parade of Lights.
After the parade, Santa took some time at 1745 Water Street to meet children and listen to their wish list. As Santa is a busy person this time of year, he asked for us to extend Best Wishes and a Merry Christmas to everyone.
The DowntownS Miramichi – Historic Chatham Business District would like to extend a very sincere thank you to everyone who participated, support and viewed the parade. The 27th Annual Parade of Lights is truly a community project.   View Photos!
For more info contact Mavis Williamson by phone at 778-0900 or 622 -2244 or email " target="_blank"> Visit us on the web at www.DowntownsMiramichi.com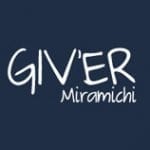 Giv'er Miramichi is about "What's up, what's new, what's happening". We are focused on building people up, supporting one another and celebrating our successes.