Curtains Up! How theatre arts sets the stage for confidence building in children
Dylan was a quiet boy who found it difficult to speak up. His mother enrolled him in a theatre arts class, and ten weeks later, the soft-spoken young man emerged from his shell, playing a comedic role.
Marianne was a bit of a wild card. She loved to direct other people, but had a hard time maintaining focus for herself. Given the part of a great leader, she figured out how to manage her own energy, and consequently was more effective not only in acting class, but in school, at home and in her community.
Taking classes in theatre arts can bring rewards that go far beyond the stage. Children who are introverted can find their voice playing a character. Children marginalized by learning or developmental disabilities can come into contact with a new set of competencies. Not to mention that it's great fun!
Glenn Copeland is the proud director of Kidplayhouse Productions, and will be running a new series of theatre arts classes for kids beginning January 12, 2013. Also on offer are Private Singing Lessons, Intro to Keyboard and Rhythm Orchestra. Adult theatre arts classes will resume in March.
To learn more, visit www.kphproductions.com.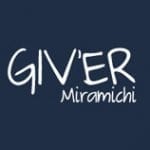 Giv'er Miramichi is about "What's up, what's new, what's happening". We are focused on building people up, supporting one another and celebrating our successes.