New local Birth Services business to provide support around the river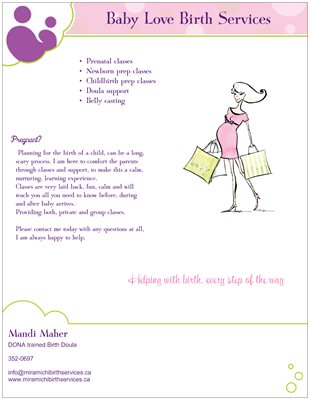 Hello there fellow Miramichiers!
I am writing here, in hopes of providing some insight into my new local business.
My name is Mandi Maher, and I am the owner of Baby Love Birth Services here in the Miramichi and surrounding areas. I have been providing years of Birth Coaching to many friends and family members, as well as co-facilitating prenatal/ postnatal classes with "Healthy baby and me" for over five years, and have since taken some training and decided that this is what I want to do forever!
So, I have turned my career around to completely focus on full birth support to pregnant women and their support people. My main goal is to help moms go into their birth with confidence, empowerment, calmness and excitement. And I believe that I can provide that, if we work together closely to get you ready for the big arrival.
I have a passion for birth and educating people about it, any way I can. I am providing the following services in private or group settings:
-Birth coaching
-Prenatal classes
-Newborn Prep classes
-Birth prep classes
-Postpartum depression support
There are varying prices for each service and discounts for attending more than one class.
I am always available to chat about my services, and to help you at any time. If you think any of my services are right for you, or someone you know, please do not hesitate to contact me in one of the following ways:
email:
Phone: (506)352-0697
Facebook: Mandi Maher or Baby Love Birth Services
Website: www.miramichibirthservices.ca
Please check out my website for details on everything I offer, in detail, along with prices. Looking forward to meeting some new people!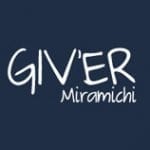 Giv'er Miramichi is about "What's up, what's new, what's happening". We are focused on building people up, supporting one another and celebrating our successes.