Reach Your Goals with Better Bodies Fitness Studio!
Whatever your fitness goals may be, Better Bodies Training Studio offers a variety of options to help you succeed. Stop by to meet Tobi Desveaux and her associates for a Lifestyle Counselling session or to join a class. New participants are always welcomed!
At Better Bodies you don't need to make a commitment, you can drop in and take a single class or sign up for a longer program. In their spacious centrally located studio, they offer a large selection of classes for all ages and fitness levels.
Whether you're looking for a high energy aerobic workout or to strengthen your body and core, Better Bodies has a class for you; from Zumba and yoga, to power toning, dance, and much more. They also offer classes for people recovering from an injury or just wanting to try a class for the first time at a slower pace. If you're not sure which class is right for you, give Tobi a call and she'll help you decide. There are many new classes planned for the Spring/Summer season.
To see Tobi in action, check out the videos below that were made for the Mighty Miramichi's Biggest Loser Challenge 4 participants. In them Tobi demonstrates easy at home exercises to get a full body workout. In Part 1 she gives instruction on the proper form for doing lunges for lower body and wall push-ups for upper body.
In Part 2 Tobi demonstrates exercises to work your core and help develop good balance.
Congratulations to Carrie Donovan, Nadine Street, Carolyn Yates Mullin and Lesley Dickson who each won a FREE one hour Nutritional and Fitness Consultation with Tobi Desveaux, plus one free class of their choice at Better Bodies Fitness Studio in Mighty Miramichi's Giv'er at the Gym Contest!
Better Bodies Training Studio is located at 2368 King George Hwy, Suite 200. They are open Monday through Thursday from 8 am to 8 pm, Friday from 8 am to 5 pm, and Saturday from 8 am to 4 pm. They are closed on Sundays.
For more information telephone (506) 773-7697, visit their website, or join their group on Facebook, where Tobi posts class updates and interesting fitness/nutrition tips. There are some new programs and workshops planned for Spring.  Lots of exciting news to be announced! Ask Tobi to add you to her email list so you can receive her weekly updates and class schedules right in your inbox.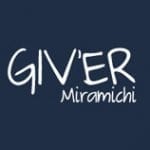 Giv'er Miramichi is about "What's up, what's new, what's happening". We are focused on building people up, supporting one another and celebrating our successes.