Cybersocial Miramichi Revival
The Jalloo Festival of Animation and Games held a successful Cybersocial on Thursday, April 11 at O'Donaghue's Pub. The group included staff and students from NBCC Miramichi, technologists, and a group of business entrepreneurs and professionals from MYPIE (Miramichi Young Professionals and Involved Entrepreneurs).
Approximately 45 people packed the room to exchange information and ideas. MYPIE was pleased to be invited to attend the event as their mission is to provide support for young entrepreneurs and professionals through business networking, training, and recognition. The Cybersocial provided them with a platform to introduce their Gala finalists in their Entrepreneur, Professional, and Community Champion categories.
One of the initiatives for a Cybersocial revival is to better shape the digital landscape in Northern New Brunswick. Gaming, simulation and animation (GSA) have common vertical markets on which GSA companies focus. They are: entertainment, manufacturing, Information Technology (IT), Post-secondary Academic, and subcontracting. The most common source of contracts is in entertainment and manufacturing, with healthcare and IT also being significant. The Miramichi has many strong components of the NB GSA industry including low production costs, a talented workforce and quality of work.
Miramichi has a strong sense of vision for their community. We need connectors and methods of bringing these companies and institutions together to help foster growth. We have a lot of festival and spirit but Jalloo and Cybersocials allow us to gather to discuss technologies. In June every year several opportunities for networking exist during breaks from the Jalloo conference, but the main networking event is set for Wednesday, June 19th with two parties scheduled. For professionals, there is the Lobster Dinner and riverboat ride, and for students there is a pizza and pool party. Later in the evening they will merge into a single fun filled event.
Some of the trends that will affect the GSA industry in New Brunswick include significant growth of Electronic Gaming in the e-learning industry, including education technologies, webcasting, interactive media, programming and games platforms. The Cybersocial and Jalloo events will help in networking and growth opportunities. With significant growth of game-based learning, simulation-based learning, and computer simulation in sectors such as manufacturing, health and security, the GSA industry will grow in conjunction with the learning industry as the new learning styles take hold. The growth of branded media, and the convergence of marketing, and learning and entertainment will introduce many new target markets.
There appears to be a healthy supply of graduates to meet the demand for GSA production positions, particularly the more junior and entry level positions, over the next two years. The city of Miramichi is provided a centre for these junior positions in what is called the "Creative Lair". One of the major gaps in existing training programs is the lack of an on-the-job training component to the GSA. This centre provides mentorship and there is now a greater interface between post-secondary institutions like NBCC and the industry with Applied Internships and CO-OP programs. The City of Miramichi is bringing opportunities for companies to network in one place which will help benefit the entire Northern region. Companies like Mighty Miramichi have been here for over 10 years and believe in a web-based vision for many communities. Lets follow the same path and gather niche products and start exporting as a team.
There exists considerable consensus among Miramichi respondents regarding the actions required to promote the growth of the GSA industry in Northern NB and to extend this to the Atlantic Provinces, especially with the Digital Media Tax Credits. New Brunswick GSA companies are deficient in marketing & branding, export relationship development and business process and training expertise, any networking such as Cybersocials can help build this relationship. Success will strongly favour those who are able to capitalize on the convergence of discovery and technology and effectively communicate within this new way of thinking.
For more information about the Jalloo Festival of Animation and Games click here.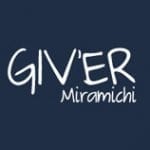 Giv'er Miramichi is about "What's up, what's new, what's happening". We are focused on building people up, supporting one another and celebrating our successes.