Miramichi Fishing Report for Thursday, April 25, 2013
High and dirty water hampered angling to some degree last weekend and early this week, but there was still catching to be had.  The higher water allowed boats freedom to cover much greater areas of the various rivers.
W. W. Doak and Sons in Doaktown said after the weekend's high and dirty water, anglers began picking up fish again on Tuesday and Wednesday.  Water in the Blackville area had come up 2 1'2 meters last weekend.  They were not sure what effect more rain on Wednesday would have on the river's condition, but the forecast for the weekend was decent.  There was still a lot of snow in the woods, so they were expecting another two weeks of good fishing with the water likely staying cool and at a good level.
Flies of choice were Golden Eagles, Renous Specials, Black Ghosts and some Maribou patterns.
Derek Munn of Ledges Inn in Doaktown and Mountain Channel in the Rapids area said the water there Wednesday was a perfect height and anglers were having good fishing.  It was not unusual for boats to limit out.  About 85 % of fish caught were salmon.
Flies of choice were Black Ghosts, Black Marabous and some Renous Specials.
Herb Barry Sr. of Herb's Fly Shop on the Station Road in Blackville said angling on the weekend was poor due to high and dirty water, but by Tuesday fishing had improved to where they were catching a few. One angler showed him a photo of a nice looking 42-inch salmon.  Most of the fish caught were salmon.  There were no smelts in the Blackville area.  He felt angling should be decent this weekend.
Flies of choice were Silver Smelts, Gold Smelts and Blue Smelts along with the Christmas Tree.
Curtis Miramichi River Outfitting in Blackville said only a very few fish had been caught on the weekend due to poor water conditions, but there was improvement on Tuesday and Wednesday, although there was a pretty good rain on Wednesday, so the water could raise again.  The weekend forecast looked good though.  Mostly salmon were being hooked.  It was still too early for canoeing.
Flies of choice were Blue Smelts, Maggott Smelts and Alewives.
George Routledge of George's Fly Shop at the Mouth of Renous in Quarryville said that angling was poor on the Main Southwest on the weekend, but the Renous and Mouth of Dungarvon was producing fish.   Tuesday and Wednesday were still slow as well with a few being picked up by boats below the Quarryville Bridge.  However, shore-anglers above the bridge were not having much luck.  The mouth of Dungarvon was still fishing well/.  The smelts were in at Quarryville, but not into the Renous.
Flies of choice were Black Ghosts, Mickey Finns, Golden Eagles, Blue Smelts and Renous Specials
Jim Laws of Miramichi Hunting and Fishing in Newcastle, Miramichi reported slow fishing on the weekend with the water quite high and dirty.  Fishing had improved gradually as the water dropped and cleared.  Anglers were also picking up decent numbers of bass while angling for spring salmon.
Flies of choice were Black Ghosts, Golden Eagles and Renous Specials.
Syd Matchett of Trout Brook Fly Shop on the Northwest Miramichi said anglers were having both good days and bad days.  One angler reported hooking seven from shore around the Allison Run area.  The water height was good prior to the Wednesday rain, and should be good for the weekend.
The smelts were in, and Holly Harris was getting great feeds in an unusual manner.  No dipping for him! His cats have a path right to the river and were bringing back all the smelts he could eat, but they were making him beg a little for them.
Flies of choice were Black Ghosts, Mickey Finns and Black Marabous along with a variety of other patterns being used here and there.  Not sure what patterns the cats were using, but perhaps an old pattern called "Claws".
Debbie Norton of Upper Oxbow Outdoor Adventures on the Little Southwest Miramichi said the weekend was not good because of unfavourable water conditions, but improvement came Tuesday and Wednesday when all of her guests had caught fish.  The salmon to grilse mix was about even.
Flies of choice were Golden Eagles, Renous Specials and Ronnie Ward Specials.
So with more favourable weather forecast for the weekend, make the effort to get out and "on the water".
Don't forget to show your support for our sponsors, because without them, this column would not be possible.
Drop in to Bryant Freeman's Eskape Anglers in Riverview to stock up on streamers for spring angling as well as any other equipment you may need such as a Redington Rod.
Providing quality gear for the outdoor enthusiast all year round, Pronature in Miramichi has you covered. Stop in to check out their rods, reels, tackle and gear.
Check out Deals 4 U in Miramichi for your grocery needs, and good Cuban cigars to celebrate getting back to the rivers.
ANY FINANCIAL CONTRIBUTIONS TOWARD HELPING WITH THIS COLUMN ARE GREATLY APPRECIATED. Click here to donate now.  A SPECIAL THANKS to all who made contributions last season.
BASS UPDATE:  Mark Hambrook, president of the MSA, said they are continuing to lobby for anglers to have no closures and a spring retention period.  He felt a little more confident this week, and noted that local MP, Tilly Gordon and Fishery Minister, Honourable Keith Ashfield were working very hard to reach a proposal that would be positive for anglers, while keeping in mind the sustainability of the bass population.  An announcement is expected very soon.
Thought for the Week: "It is impossible to grow weary of a sport that is never the same on any two days of the year."  Theodore Gordon
E-MAIL:
Greetings Doug,
First I would like to thank you for writing such a great column for everyone to enjoy. I have a fishing story that I would like to tell you that happened to me this past weekend that has a message for readers to use caution when shore fishing during the spring.
My name is Kim Brennan and I live in Blissfield, NB and was shore fishing with 3 friends George Daneluk, Pierre Gagnon and Daniel Bell near Mercury Island/Dean Bar and enjoyed a great day fishing on Friday with my friend catching 2 nice salmon in the 32-33 inch range and I landed/released a large grilse male that had overwintered very well and was very bright in colour.
Upon landing and releasing the final salmon of the day it was around 6 pm and we were walking along the shore/interval through the flattened down yellow shore grass from last year when I stepped forward and fell into a deep hidden hole with my left leg going its entire length managing to twist and severely sprain my ankle, tear a ligament and chip an ankle bone in the process.
I was able to get myself out of the hole but not able to bear any weight on it to walk back up the steep slippery side hill to my parked jeep. With it being later in the day, time was of the essence to formulate a plan to get to safety and medical aid as I was unsure if the ankle was broken. It was decided to have someone stay with me on shore and elevate the injury and the other guys went to a neighboring camp where local guide Pat Munn and another gentleman came with a boat and took me upriver to a waiting truck and extracted me to the waiting ambulance as well as a few local firemen who came along to assist with loading my large frame into the ambulance.
I am very thankful the injury was not life threatening and that help was readily available and fast to respond. I am also very fortunate to have fishing buddies with me to go for help. Had I been alone it would have taken much longer to get rescued to medical help.
Please feel free to relate my story to your readers, or at least relate the message to use extra caution when shore fishing, especially when fishing alone as this is a place that I do fish alone sometimes, just luckily I had friends along on this day. Also great to have a cell phone along that helped get emergency responders there much more quickly and helped to coordinate rescue efforts.
I have attached a photo of the grilse I caught and released that day, first one of this season. I'll have to wait until I recover to get back out for summer fish, and Crown Reserve on the Elbow Stretch later in July.
Keep up the great columns and best wishes for a great season,
Cheers,
(Mr.) Kim Brennan
Until next week
TIGHT LINES
DOUG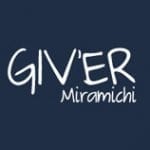 Giv'er Miramichi is about "What's up, what's new, what's happening". We are focused on building people up, supporting one another and celebrating our successes.