Over 800 Pounds Lost in Mighty Miramichi's Biggest Loser Challenge!
Mighty Miramichi's Biggest Loser 6 Challenge wrapped up Thursday night, March 28, 2013 with participants shedding a total of 804.5 pounds.
"We would like to thank each and every participant for all their hard work. Your dedication to living healthy lives has inspired all of us at Peak Performance!" said Heather Hutt, Manager of Peak Performance Health Center.
The top team, Trak, made up of Terry and Rhonda Williston with Andrew and Krista MacMullin, lost a total of 108.8 pounds or 11.93%. Team Thinterest with Florence Hubbard, Pat Harris, Kim Harris and Annie Simoneau placed second losing a combined total of 101.8 pounds. Rick Dedam was the Biggest Loser in the Individual category, shedding 52 pounds or 14.49%. The Peak Performer on the winning team was Terry Williston, who lost 40.2 pounds or 16.85%. Florence Hubbard received the Peak Performer award for the running up team, losing 40.2 pounds or 13.92%.
Prizes valued at $7848 were awarded to the winners as they each received a one year Gold Membership to Peak Performance Health Center.
"The past 12 weeks have been such an incredible experience, watching everyone rise to the challenge. The transformations made from January 7th to March 28th are unbelievable, not only the physical but also the level of personal growth," said Lisa Kelly, Assistant Manager of Peak Performance Health Center. "You have all demonstrated great will, team spirit and individual strength. Nobody said it was going to be easy, we said it was going to be worth it! And I'm sure you would all agree it has been!"
Chad Duplessie added, "Seeing the positive energy at the Biggest Loser finale was incredibly inspiring. As a Health Coach with the Live Well! Bien Vivre! project I am thrilled to be part of the positive healthy lifestyle changes that are happening to more and more Miramichiers. I am eager to work with even more Miramichiers in creating a healthy life for them and their loved ones."
Registration for Mighty Miramichi's The Biggest Loser 7 is now open and the challenge kicks off on April 15th at the Nordin Rec Centre beginning at 6:30 pm.
Participants can join in teams of four or compete individually. Each member must review the rules and register by Sunday April 14th by contacting Peak Performance Health Center at (506) 622-5107 or registering online at http://biggestloser.mightymiramichi.com.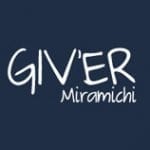 Giv'er Miramichi is about "What's up, what's new, what's happening". We are focused on building people up, supporting one another and celebrating our successes.