Miramichi Fishing Report for Thursday, June 13, 2013
High water continues to be the story for much of the system, but on the positive side, it is bringing in fresh fish, and allowing them to move quickly through the system toward the spawning grounds.
While out fishing Monday of this week, I was greeted by a pleasant surprise.  The students from Napan Elementary were releasing into the Northwest Miramichi very young salmon which they had raised at their school as part of the Fish Friends program.  Joni Craig was leading the students and helping as they were introduced to conservation measures which bode well for the future.
Doug White's Tammerack Sports Fly Shop in Juniper said the waters have receded for now and people are out fishing again. There is still a run of sea-trout with the largest being about four pounds and the average about two pounds. There was talk of a salmon being caught on the North Branch but nothing he could verify.
Flies of choice were Butterflies, bugs, streamers and bombers.
W. W. Doak and Sons in Doaktown said anglers were picking up some salmon and the odd grilse on the Main Southwest and Dungarvon.  The water was a bit high, but dropping.  They felt the water should not rise too much from Wednesday's rain, although the Cains could be up as rain was further south.
Flies of choice were Butterflies, Same-Thing-Murrays, Black Ghosts and White-tailed Green Machines on nos. 4 & 6 hooks.
Derek Munn of Ledges Inn in Doaktown and Mountain Channel in the Rapids area said there were salmon being hooked along the river.  He'd heard of around 10 caught Tuesday.  The water was high, but dropping.  He and Andrew Anthony hooked into five and landed three on one of the Main Southwest Miramichi tributaries Tuesday.
Flies of choice were the La Pacase, Black Ghost, Green Butt Squirrel tail and White-tailed Green Machine.
Herb Barry Sr. of Herb's Fly Shop on the Station Road in Blackville said angling was hard to judge.  Some were saying there were fish being caught, while others were saying there were none.  The water was very high and barely fishable.  Those being caught were mostly salmon with the odd grilse.  There were no trout to speak of.
Flies of choice were Moose-hair Green Butts, Bear-hair Green Butts and Black Ghosts.
Curtis Miramichi River Outfitting in Blackville said there were a few salmon going if one could find a place to fish as the water was very high.  The high-water pools were fishing well.  Catches were mostly salmon.  They had a few spots open for their Fly-Casting Instruction on June 22.  If interested contact them at (506)843-2481.
Flies of choice were Blue Charms, Black Ghosts and White-tailed Green Machines.
George Routledge of George's Fly Shop at the Mouth of Renous in Quarryville said last Friday there were two salmon and a grilse taken at Quarryville, and on Tuesday there were both salmon and grilse caught on the Renous.  The water was dropping nicely, and if there was no more rain, the weekend should be good.  He had also heard a few reports of salmon in the Blackville area, so it seemed that the fish were starting to move in.
Flies of choice were Black Ghosts, White-winged Butterflies, Yellow-winged Butterflies, Shady Ladies and White-tailed Green Machines. On nos. 4 & 6 hooks.
Jim Laws of Miramichi Hunting and Fishing in Newcastle, Miramichi reported anglers getting some salmon on the Northwest and the odd grilse.  The water was still high, but if there was no rain the weekend should be good.  Other anglers were still catching Striped Bass.
Flies of choice were White-tailed Green Machines, Black Ghosts, Yellow-winged Butterflies, Bear Hairs and Shady Ladies on nos. 4 & 6 hooks.
Syd Matchett of Trout Brook Fly Shop on the Northwest Miramichi said that Brian Hatch released a salmon Wednesday morning, and Syd himself did the same Tuesday.  Generally, there were decent numbers going through along with a few grilse.  Bobby Driscoll caught a grilse this week in a way Syd described as "trolling".  Driscoll had finished fishing and was making his way back up shore with his rod over his shoulder and the line in the water behind him when he hooked and landed a grilse.  Total averages along the system were between 5 to 10 fish a day.  Water conditions were good.
Flies of choice were White-tailed Green Machines, Black Ghosts, Yellow-winged Butterflies and Shady Ladies.
Debbie Norton of Upper Oxbow Outdoor Adventures on the Little Southwest Miramichi said there was lots of water around and some salmon and a few grilse.  Mark Fillamore landed a salmon while Lilliam Lee hooked a salmon on Monday.  Norton had also heard of other salmon being hooked.  The water was dropping quickly.
Flies of choice were Butterflies and White-tailed Green Machines
With not too much rain throughout the system, river levels should continue to drop.  So plan to get out and "on the water".
Don't forget to show your support for our sponsors, because without them, this column would not be possible.
Fishing Packages are available at the newly renovated Days Inn in Miramichi, located in the heart of downtown Miramichi, just steps from the mighty Miramichi River.
Drop in to Bryant Freeman's Eskape Anglers in Riverview to stock up on streamers for spring angling as well as any other equipment you may need such as a Redington Rod.
Providing quality gear for the outdoor enthusiast all year round, Pronature in Miramichi has you covered. Stop in to check out their rods, reels, tackle and gear.
Visit Deals 4 U in Miramichi for your grocery needs, and good Cuban cigars to celebrate getting back to the rivers.
Check out this fully-furnished cottage for sale in the Doaktown area with 80 feet of waterfront, full loft and cedar shed. Click here to view all the details.
ANY FINANCIAL CONTRIBUTIONS TOWARD HELPING WITH THIS COLUMN ARE GREATLY APPRECIATED. Click here to donate now.  A SPECIAL THANKS to all who made contributions.
Thought for the Week: "Fish stories told here….some true!!!
Atlantic Salmon Federation News
Tuesday, June 11, 2013
ASF's Review of Atlantic salmon numbers is news, even in Iceland
~~~~~~~~~~~~~~~~~~~~~~~~~~~~~~~~~~~~~~~~~~~~~~~~
Concerns are being felt throughout the North Atlantic for the low North American returns experienced in 2012. A short version published in Reykjavik covers the main points. Read more:
http://asf.ca/questions-over-greenland-salmon-harvest.html
NASCO Meeting Fails to Prevent Escalating Greenland Fishery
~~~~~~~~~~~~~~~~~~~~~~~~~~~~~~~~~~~~~~~~~~~~~~~~
Meetings in Ireland failed to stop Greenland from ramping up salmon quotas and introducing factory sales for the first time in a long time. Read more:
http://www.flyrodreel.com/blogs/tedwilliams/2013/june/news-atlantic-salmon
ASF's Sue Scott Provided Perspective
~~~~~~~~~~~~~~~~~~~~~~~~~~~~~~~~~~~~~~~~~~~~~~~~
ASF's Sue Scott delivered the address of the non-governmental organizations, and gave a Radio Interview to Newfoundland from Ireland on the issues, set against the backdrop of declines in salmon populations in Canada.
http://www.asf.ca/sue-scott-details-low-salmon-stocks-in-eastern-north-americ.html
ASF President Bill Taylor Provides Overview of Disappointing NASCO Decisions
~~~~~~~~~~~~~~~~~~~~~~~~~~~~~~~~~~~~~~~~~~~~~~~~
Bill Taylor gives a radio interview that both details the decisions, and outlines what we need to do to turn things around.
http://www.asf.ca/conservationists-watching-greenland-salmon.html
BACKGROUNDER on State-of-the-Population 2013
~~~~~~~~~~~~~~~~~~~~~~~~~~~~~~~~~~~~~~~~~~~~~~~~
ASF's 2-page backgrounder on the State of the Populations in 2013 is available on its website at:
http://0101.nccdn.net/1_5/09e/111/2de/state-of-salmon-2013.pdf
~~~~~~~~~~~~~~~~~~~~~~~~~~~~~~~~~~~~~~~~~~~~~~~~
To keep track of breaking news on wild Atlantic salmon, use the Atlantic Salmon Federation's presence on Facebook. Log in, search for Atlantic Salmon Federation, and click "like".
E-MAIL:
Hi Doug,
Really enjoy your report. Don't know if you are looking for stories, but here's one.
Headed to the Restigouche Wed June 5, more for a river tour than fishing. High water actually contributed to safe boating between stretches. Ran into some friends at Red Bank who were having some luck. Left Red Bank 7am Thurs am headed for the Kedgewick, hopefully to visit some friends who bought the Fraser lodge. Arrived 15 miles up at Rapids Depot around 2:30 after a hair raising travel up the rapids just before. Class III on the other side of Rapids Depot. Discretion was the better paid of valour, so turned around and headed back to Downs Gulch. Weather and river were God given. Amazing to see all the guys busy with prepping the lodges for the upcoming season.

My 2 cents worth,
Steve Appleby, Florenceville, NB
~~~~~~~~~~~~~~~~~~~~~~~~~~~~~~~~~~~~~~~~~~~~~~~~
Doug I caught this one last week in lake ontario just off the Burlington Bay , 10 lb,s & 4 oz,s… Love my fishing , I wish I was on the Miramichi Fishing.
Wilbert Savoy
~~~~~~~~~~~~~~~~~~~~~~~~~~~~~~~~~~~~~~~~~~~~~~~~
Until next week
TIGHT LINES
DOUG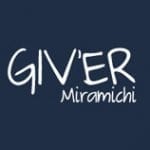 Giv'er Miramichi is about "What's up, what's new, what's happening". We are focused on building people up, supporting one another and celebrating our successes.