The Gathering – Heritage Photos
by Susan Butler
The first "Gathering – Heritage Photos" has been here and gone. It was the first ever event of its kind and went over very well with an attendance between 800 to 1000.
The official opening got under way on Friday afternoon, June 14th, and the event ran until Sunday, June 16th at 2 pm. A steady stream of people of all ages filed through the Eco-Centre, and Miramichi history came to life on the river for three days!
There were two 10-foot screens where there was a continuous showing of heritage photos of the Miramichi. Some guests were astounded to see pictures of their grandparents and great-grandparents flashing on the screen. Some people brought photos to share.
I was there all weekend with a history of the Miramichi Folksong Festival in photos of 55 festivals. As I looked around the rink surface viewing 40 some tables of historical artefacts it made me think of a quote in Dr. Louise Manny's book, Songs of the Miramichi, "What is a tree without its roots? What is a people without its past?"
Karl Wade and Charles Asoyuf are to be commended for putting such a project together and recruiting a wonderful team of volunteers to assist in bringing this event to fruition. This was an undertaking of genuine pride for their love of the Miramichi area with the many landmarks, history and the great diversity of people that make our Heritage what it is.
Those who attended were so excited to receive a copy of the Heritage photo album made possible by many local establishments who were able to feature a historical photo of their family or business. It is certainly a keepsake! There are a few left that will be sold at the
Farmers Market on Fridays, Estey's Fish and Chips and at the 56th Miramichi Folksong Festival in August. If anyone would like to purchase one they can call me at (506)622-1780 or email me at .
Saturday Cyril Donahue, from the New Brunswick Archives gave an impressive presentation on historic photos of the Miramichi including the Miller collection. Tim Humes also gave a presentation on native portage trail. One of the highlights of the afternoon was live performances by local musicians, Joanne Lynch, Donna and Tyrone Hubbard, Steven Allison, Eugene Somers, Jim Lawlor, Jim Morrison, Susan Butler, Gary Silliker and Terry Whalen.
A surprise visit was made by fashions from the early 1900 to present day, put together by Linda Waye from her own personal collection of heritage clothing. A dozen young people, men and women, modelled the outfits. The evening ended with a sold-out banquet and special presentations.
The following Miramichiers returned home for this event: Carl Stymiest, Vancouver; Ruth Cobb Flynn, MacKenzie, BC; Betty Ann Orr Molnar, Calgary; Ann Davidson, Belleville, ON; Patricia Kelly, Brigden, ON; Kurt Bowes, Ottawa; Betty Ann Orr, Calgary, and many others from across the Maritimes.
Will there be another event such as this? Only time will tell, but the pictures will continue to accumulate and our heritage will continue to be preserved. It is the wish of Karl and Charles that these pictures be presented at such historical events like the Miramichi Folksong Festival, Canada's longest standing Folksong Festival.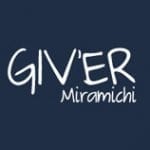 Giv'er Miramichi is about "What's up, what's new, what's happening". We are focused on building people up, supporting one another and celebrating our successes.