NBCC Celebrates 2013 Graduates

In a year that brought significant strides and milestones, signalling the New Brunswick Community College (NBCC) as a post-secondary education of choice, over 2000 graduates will cross stages in six locations in the province as part of the Class of 2013.
NBCC is expected to graduate 2126 students next week, the largest graduation class in its history, at its campus locations in Fredericton, Miramichi, Moncton, Saint John, St. Andrews and Woodstock.
The graduates were indeed a part of a memorable 2012-13. The past academic year saw NBCC unveil its first-ever five-year Strategic Plan entitled Imagine the Possibilities 2012-2017. NBCC earned its first Natural Sciences and Engineering Research Council of Canada (NSERC) grant for an Industrial Research Chair in Mobile First Technology. In addition, the first NBCC Alumni Association was launched with over 1000 members registered. The College system is also celebrating the 40th anniversary of the union of six campuses as NBCC although many of the campus locations have longer histories.
"NBCC is extremely proud of our Class of 2013. In addition to their academic successes, most of our graduates have also undertaken numerous activities to give back to our communities," said NBCC President and CEO, Marilyn Luscombe. "Our College continues to strive to provide the best learning environments and educational opportunities for our students, and we look forward to our graduates many contributions to our economy and to our quality of life."
NBCC has a rich and storied history in the province.
The momentum gathered this year is expected to generate even more interest in students pursuing an NBCC education.
"NBCC's vision is transforming lives and communities," said NBCC Board of Governors chairperson, Cheryl M.G. Robertson. "Our Board takes great pride in watching our graduates go forward, transformed by their experiences at our College, and ready to make a difference in their chosen professions and in the communities in which they work and play."
Graduation ceremonies will be held at NBCC Moncton on June 22 (Moncton Coliseum, 10 am); NBCC Miramichi on June 25 (Lord Beaverbrook Arena, 2 pm); NBCC Woodstock on June 26 (campus gymnasium, 10 am); NBCC Fredericton on June 26 (Richard J. Currie Centre, 3 pm); NBCC St. Andrews on June 27 (campus gymnasium, 9:30 am) and NBCC Saint John on June 27 (Harbour Station, 3 pm).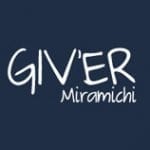 Giv'er Miramichi is about "What's up, what's new, what's happening". We are focused on building people up, supporting one another and celebrating our successes.