MacDonald Farm Names Calf
By Alan Breck
It certainly has been a busy week at MacDonald Farm, heading into the beginning July, but the Highland Society wouldn't have it any other way. With new arrivals, of both the two and four-legged variety, as well as events galore, the farm is bracing itself for what should be a month of spectacular historical escapes, and many memorable moments for prospective visitors.
The action commenced on the farm when the "Name our Calf Contest" came to a close. Young Miss Cheyenne Jones chose the winning name, and thus the heifer calf shall be forever known as "Sparkles". Hot on the heels of this proclamation, a young male calf was born. Though it isn't clear if a new contest is in the offing, proposed names are always welcome.
Elsewhere, a new consignment of kittens has landed at the farm, all looking for a loving family to provide them with a new home. The staff at the farm urge any interested parties to stop by and adopt one of these adorable kitties … and of course visit the farm while you're there.
That same staff has also been bolstered in the last few weeks with the arrival of a pair of veteran employees.
Burnt Church local, Zack Sonier joins the crew as an experienced farmhand. Farm facilities technician, Steve Brown, a student of the dairy farms of Southern New Brunswick, rates Sonier as a real asset. Brown spoke of Zack's knowledge and good work ethic as being key to his finding a home on the farm for the summer.
In addition to Zack, experienced historical interpreter Anne Gillis will be seen around the MacDonald homestead as well. Recently returned from studies abroad, Gillis represented the farm at several events throughout the Fishermen Pow Wow on June 30th and July 1st. Her warm disposition and charm spoke to the kind of visit any guest of the farm could expect to receive, and certainly made it clear why the Highland Society chose her to represent the benevolent and generous Grace MacDonald in their promotional materials.
Site Manager Muriel MacCullam is looking forward to a great season with her staff. Coming up in a few weeks, on July 14th, the farm will play host to Ian Craig's How She Goin' Band, the first in a series of musical Sunday afternoons. This summer promises big things at the farm, so don't miss out, visit them on Route 11 or call about more information, (506)778-6085 or (506)778-6101.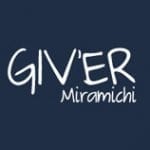 Giv'er Miramichi is about "What's up, what's new, what's happening". We are focused on building people up, supporting one another and celebrating our successes.