This Week's Fastpitch Results
by Shawn McCarthy
Miramichi Men's Fastpitch action resumed this past Monday after a brief hiatus for the Robert Blacquier Memorial Tournament, and the local clubs were itching to get back on the field after the visiting Richibucto Jays walked away with the tournament championship last Sunday.
The always competitive Nelson "Days Inn" Red Sox took on the determined Eel Ground Eagles on Monday Night. This was a hard-hitting affair with Sox pitcher Jason Lynch, and Eagles hurler Greg Richard managing only three strikeouts between them.
On the offensive end of things, the Red Sox were led by Ranson Harris, who went four for four on the night, with two doubles, two singles, and three RBI. Not to be left out, Eagles' batter Dustin McKay went four for five, with two singles, one double, one triple, and two RBI.
In the end, the game was decided in the Red Sox favour, with a whopping score of 21-17. It was certainly easy to see that the tournament took its toll on both clubs, as these games are not usually such high-scoring affairs.
The undefeated Miramichi "Towne Ford" Rangers took to the field on Tuesday, defending their spotless record against the youth and vitality on the Douglasfield Dodgers.
Devon MacKenzie headed up the offensive offerings for the Dodgers, but the young club had a difficult time finding the answer to the ever threatening Rangers fireballer, Jimmy Keenan, who claimed another eight strikeouts in this one. When the Rangers got to the plate, a triple by Cory Cooper, and two singles from Matthew Hebert, went some way toward taking them to their eventual 8-1 victory, and a six-game winning streak.
The "Towne Ford" Rangers were back in action against the "Days Inn" Red Sox on Wednesday night, renewing the rivalry between the two top teams in the league.
Keith Sullivan led from the mound for the Rangers, notching seven strikeouts, and offering up a double offensively. He was joined by Cory Cooper, who managed three doubles and a single. For the Sox, Dan Goodin threw five strikeouts, and knocked one over the fence when at bat, a home run that complemented the Nelson club's other play-makers, Ranson Harris, with a triple and two singles, and Brett Goodin's two doubles. The Rangers would hang on however, winning by a 12-8 score, to further ensconce themselves as league leaders.
Here's how things shake down in League, after six weeks of play:
Miramichi Towne Ford Rangers
7 Wins, 0 Losses, 14 Points
Nelson Days Inn Red Sox
5 Wins, 3 Losses, 10 Points
Miramichi Jungle Jim Brewers
2 Wins, 5 Losses, 4 Points
Douglasfield Dodgers
2 Wins, 5 Losses, 4 Points
Eel Ground Eagles
1 Win, 4 Losses, 2 Points
Pitching Wins
Jimmy Keenan (Rangers) – 4
Dan Goodin (Red Sox) – 3
Strikeouts
Dan Goodin (Red Sox) – 43
Jimmy Keenan (Rangers) – 32
Ashley Cosgrove (Brewers) – 25
Home Run Leaders
Greg Sullivan (Rangers) – 4
Keith Sullivan (Rangers) – 2
Justin Fogarty (Rangers) – 2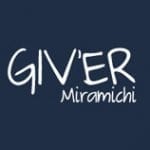 Giv'er Miramichi is about "What's up, what's new, what's happening". We are focused on building people up, supporting one another and celebrating our successes.