MacDonald Farm Looks Forward to a Bountiful Harvest
By Alan Breck
As the 2013 season comes to a close, MacDonald Farm has vowed not to lose any of its momentum in these waning days of summer. The management and staff implore prospective visitors not to miss out on the opportunity to travel back in time and learn the truly remarkable story of the area's initial Anglo-Scottish settlement, and all of the excitement that went with it.
Of course, the end of August also brings with it the promise of harvest time, and the Farm has long been known for its garden vegetables. The staff has been weeding and tending to the garden these last weeks, in the hopes of producing a bumper crop. Farm facilities technician, Steve Brown, noted sunflowers, potatoes, onions, beans, cucumbers, peas and carrots among the prospective produce this year.
Elsewhere on the farm, the five laying hens have been busy, and farm-fresh eggs are now available at the Interpretive Centre off Hwy 11. For those looking to take home something less edible and a bit fluffier, there are still a few kittens roaming about the grounds in need of a good home.
Entertainment under the tents on the acreage will continue this weekend, with Four Dollar Bill on hand Sunday afternoon from 1pm to 4pm. As always, the BBQ will be fired up at noon, sop feel free to stop by for lunch, take a tour, and stay for the music afterward.
Excitement continues in the weeks to come, building to the Scottish Festival August 23-25, which will see the pipes and drums sound at the farm, eerily reminiscent perhaps of the days when Alexander MacDonald marched with the 43rd Highlanders in the Revolutionary War.
Everyday is an attraction at MacDonald Farm, and no matter the size of your group, the staff always add a personal touch to the guided tour. Book your passage through Miramichi's pastoral heritage today, and, while you're in, take advantage of the tax-free sale at their gift shop. Visit the farm on Route 11 or call about more information, 506-778-6085 or 506-778-6101.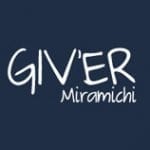 Giv'er Miramichi is about "What's up, what's new, what's happening". We are focused on building people up, supporting one another and celebrating our successes.