Miramichi Folksong Festival Honours Tim Irving
The 56th Annual Miramichi Folksong Festival paid tribute to Tim Irving from Millbank Music for 30 years of providing sound for the festival.
Tim received the award during the Folksong Festival's official Opening Ceremonies last Monday night, August 5th at the Miramichi Kin Centre. Kevin Driscoll from the festival committee made the presentation.
Record crowds attended the festival this year and two evening shows sold out. Tourists came from all over the province of New Brunswick as well as from throughout the Maritimes, across Canada (Quebec, Ontario, British Columbia, Alberta, Yellowknife), the United States (Maine, Massachusetts, New York, Indiana, Mississippi, California), and further abroad (Germany, England and Ireland). A guest book recorded those who attended from out of the area.
Upcoming Events
Coming up next on September 2nd, 2013 Folksong Festival organizer, Susan Butler hosts the Annual Tree of Hope BBQ, bake sale and concert at 2 pm in the Beaverbrook Kin Centre featuring much local talent. Donations of baked items are appreciated, contact Susan to donate by phone at (506)622-1780 or email . The BBQ is sponsored by C.U.P.E local 865 and admission is a donation at the door. All proceeds will go toward cancer research.
On September 17th and 18th the Miramichi Folksong Festival hosts a Maritime Tribute Dessert Concert at the Beaverbrook Kin Centre featuring Wade Hallihan as Stompin' Tom, Susan Butler as Rita MacNeil, The Gillis Family as The Rankin Family, and Miramichi Sings as Men of the Deep. Tickets are $20 and available by reservation only. There are only 160 tickets available for each night. All proceeds will go to the local Food Bank. Contact Susan Butler to purchase tickets.
The Caring Friends Fundraising Concert hosted by Susan Butler and featuring plenty of local talent happens at 2 pm on October 6th at the Beaverbrook Kin Centre.
On October 11th CBC's Stuart McLean returns to the Miramichi for a show at 7:30 pm at the James M. Hill Theatre, hosted by the Miramichi Folksong Festival. Tickets are on sale at Brookdale's Flower Shop, the Newcastle Farmers' Market and Kingston's Car Wash.
The Annual War Memories in Song Dinner/ Concert hosted by the Miramichi Folksong Festival is scheduled for November 10th. Supper will be served at 6 pm and tickets are available by reservation. Contact Susan Butler at (506)622-1780 or email .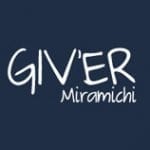 Giv'er Miramichi is about "What's up, what's new, what's happening". We are focused on building people up, supporting one another and celebrating our successes.