Community Fresh Box
by Stacy Underhill
If you want to put a sparkle in Brenda Hachey's eye, ask her about the Community Fresh Box program. The Fresh Box program is a buying group that allows participants to get fresh fruit and vegetables at a portion of the retail price.
Brenda first heard of this concept when she took a Community Food Mentors course and brought the idea back to the Glenelg Youth Alliance, where she worked and also volunteered to tutor students.
"I thought about this for a year before making it happen, planning it in my head, but it was just never the right time. I recognize there is a need for people to have affordable access to healthy food choices. It is something I am very passionate about."
Participants pay a one time registration fee of $5 and then $15 per month for a Fresh Box which is valued at $35. Every month the Fresh Box is filled with staple items such as potatoes, onions, carrots, bananas, apples and oranges and additional items are chosen based on seasonality, availability and price. The program is open to everyone, not just low income, and people who can't afford the monthly fee can apply to be sponsored. Likewise any business or individual who can sponsor a family are encouraged to do so.
The produce comes from Deals 4 U, who have been very supportive of the program. Other supporters include Atlantic Superstore who gave a discount on purchasing the green baskets. Each month when the food order comes in, volunteers take their trucks to pick up the food and get together to sort it into baskets.
A strong network of mentors has been key to the program's success. Brenda continues to consult with Rebeka Frazier-Chiasson of the Community Inclusion Network, who was instrumental in helping her get started.
"Rebeka has been such a great resource and she helps keep me grounded and focused, because I have a tendency to want to do everything at once! One of the best things I did early on was contact Janet Hamilton, coordinator of Moncton Headstart which delivers a similar program called Fresh for Less, and I spent the day volunteering with them and seeing how it all works. I also work closely with Karen Sobey who coordinates a Fresh Box program for the Eel Ground community."
Most people don't look at unemployment as an opportunity but for Brenda it was. "Luckily now I am unemployed," she laughs, "and have the time to really get this program off the ground. I have to thank my husband, Les Ginnish for making it easy for me to dedicate my time to this."
Only three months old, the Community Fresh Box program is growing each month. The first month 10 people signed up, the second month 85, and now for the third month they are on track to have 135 participants. The more people who take part, the greater the buying power of the group which means bigger savings for all involved. Brenda plans to expand the program making it more accessible to other areas in the region by partnering with other groups to establish satellite locations.
To sign up for a Fresh Box or to volunteer contact Brenda at (506) 424-0321. Check their Facebook page for regular updates.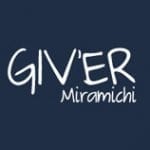 Giv'er Miramichi is about "What's up, what's new, what's happening". We are focused on building people up, supporting one another and celebrating our successes.