Governments of Canada and New Brunswick Invest in Upgrades for Miramichi Infrastructure
September 13, 2013 – MIRAMICHI (N.B.)
The Honourable Rob Moore, Minister of State (Atlantic Canada Opportunities Agency) and the Honourable Robert Trevors, Minister of Public Safety and Solicitor General; along with Tilly O'Neill Gordon, Member of Parliament for Miramichi, today announced support for infrastructure improvements in the City of Miramichi.

"Our Government's top priority is jobs, growth and long-term prosperity," said Minister Moore. "By making investments such as these in local infrastructure, we are helping to build strong, vibrant communities and contributing to economic growth."
"Our government firmly believes in investing to upgrade and modernize our tourism infrastructures to create more economic opportunities and rebuild New Brunswick," said Minister Trevors, on behalf of Economic Development Minister Paul Robichaud.
Today's announcement includes investments in four recreational sites: French Fort Cove nature trails, Ritchie Wharf, the Bi-Centennial Park and the Miramichi Boating and Yacht Club Marina. The project with the City of Miramichi involves the installation of signage and railings for trails, electrical supply, replacement of fixed boardwalk with a floating boardwalk, and easier access to the pond at French Fort Cove nature trails; renovations to public and staff washrooms, upgraded wiring, and replacement of the tot playground at Ritchie Wharf; and the installation of two floating docks at Bi-Centennial Park; as well as the installation of ten floating docks at the Miramichi Boating and Yacht Club.
The Government of Canada, through the Community Infrastructure Improvement Fund (CIIF) is investing $170,000 in these improvements; while the Province of New Brunswick is providing $280,000, the City of Miramichi $48,465 and the Friends of Ritchie Wharf $14,000.
In addition, an investment of $10,400 through the CIIF was also announced for the replacement of 10 wooden floating docks at the Miramichi Boating and Yacht Club marina. The Miramichi Boating and Yacht Club Inc. is also investing $10,400 in this initiative.
For information on ACOA's programs, visit our website at http://www.acoa-apeca.gc.ca.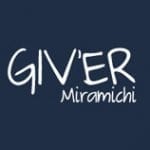 Giv'er Miramichi is about "What's up, what's new, what's happening". We are focused on building people up, supporting one another and celebrating our successes.