Miramichi Fishing Report for Thursday, September 5, 2013
Well, there is certainly not shortage of water to worry about, and the high levels hopefully will entice the Fall runs to begin their journey.  It is difficult to get a proper read on the number of fish in the system as they are not pooling and could be any where.  They are not stopping.  From a salmon's point of view, we can say it is "make miles while the water's high".  So perhaps there are more fish in the system than we realize or have counted.
Dave Ingersoll and I spent a very relaxing Wednesday this week at the Burnt Church wharf fishing Mackerel.
Doug White's Tammerack Sports Fly Shop in Juniper said all in all the fishing has been good. The water was excellent and the salmon were being a little more cooperative for a change. Catches were reported from branches as well as the Big Pool, Track and Deersdale on the main. Don't know how long this will last but one should enjoy it while it's here.
Flies of choice were Bombers, GPs, Copper Killers and Cascades in # 4 and 6.
W. W. Doak and Sons in Doaktown said the water was very high. But there were still some fish being caught here and there.  Conditions were very favourable for the fish, if not the angler.  The fish can be anywhere because they are not pooling.  There are good numbers for the time of year, and every time out there is a possibility of catching, because the conditions are always changing by the hour as there could be different fish moving through.  The Renous and the Main Southwest Miramichi below the mouth of the Cains is very high.
Flies of choice were Same-Thing-Murrays, Ally's Shrimps, General Practitioners, Green Glitter Bugs, Blue Glitter Bugs, Marabous and White-tailed Green Machines.
Derek Munn of Ledges Inn in Doaktown and Mountain Channel in the Rapids area said the water is high and just started to drop Wednesday night when we came off the river.  We are still catching a couple fish a day but for the most part it's slow with all the high water. Hopefully this high water will bring in the fall run if there is any left to come in.
Flies of choice were big Fall patterns, Marabou, and the stone fly has caught a couple fish the past few days.
Herb Barry Sr. of Herb's Fly Shop on the Station Road in Blackville said there was lots of water and it was still rising on Tuesday evening.  He had caught a fresh grilse Monday before the rain.  Anglers were generally seeing lots of fish, but getting them to take was another matter.  It probably would be the weekend before the water was down to a fishable level.
Flies of choice were Green Rats, Ally's Shrimps, Cascades, Same-Thing-Murrays, Bombers (before the rain came) and some Fall patterns.
Curtis Miramichi River Outfitting in Blackville said the water was high and rising with very few anglers out.  There was the odd fish being caught, but lots were being seen, although not interested in taking.
Flies of choice were White-tailed Green Machines and Carter's Bugs.
George Routledge of George's Fly Shop at the Mouth of Renous in Quarryville said the water is very high and probably will be like that until the weekend if we do not get any more rain.  Even before the recent rain, there were few anglers out and very few fish being caught.
Flies of choice were Routledges, Shady Ladies with white tails, White-tailed Green Machines and Black Ghosts on nos. 2 & 4 hooks.
Jim Laws of Miramichi Hunting and Fishing in Newcastle, Miramichi reported very high water and slow fishing with only the odd fish being caught, and of those, there were more salmon than grilse.
Flies of choice were big and bright such as the Fall patterns along with some Dry Flies and Bombers, especially before the recent rain.
Syd Matchett of Trout Brook Fly Shop on the Northwest Miramichi said there was certainly lots of water.  One could fish from the pavement now.  But on the weekend, prior to the rain, Lissa Mallais of the Moncton are did catch her first grilse.  She had been fishing earlier, but ended up swimming, but then realized the she had to stay7 above the water to catch fish.  Tracey Clarke from Oldwich, New Jersey caught a 39 inch hen salmon that weighed about 25 pounds.  The Northwest was not fishable Wednesday, but should drop off by the weekend.
Flies of choice were Same-Thing-Murrays, Stoat Tailed Green Butt Bear Hairs, General Practitioners, Ally's Shrimps, L.T. Specials and big Butterflies with Yellow wings and white wings.
Debbie Norton of Upper Oxbow Outdoor Adventures on the Little Southwest Miramichi said there was lots of water which should bring in the Fall run s to their natal rivers.  She said that the runs usually happen between September 21 to 25 on the Miramichi.  Prior to the rain, Donald Clarke of Fredericton caught his first salmon ever on a fly that had no name until they christened it the: Donald Clarke Special
Flies of choice were the Fall Patterns and White-tailed Green Machines.
So as we head into September with cooler weather and the foliage taking on tints of Fall colours, hopefully the rivers will drop quickly and we can get out and "on the water".
Don't forget to show your support for our sponsors, because without them, this column would not be possible.
Visit Deals 4 U in Miramichi for your grocery needs, and good Cuban cigars to celebrate getting back to the rivers.
Providing quality gear for the outdoor enthusiast all year round, Pronature in Miramichi has you covered. Stop in to check out their rods, reels, tackle and gear.
Fishing Packages are available at the newly renovated Days Inn in Miramichi, located in the heart of downtown Miramichi, just steps from the mighty Miramichi River.
ANY FINANCIAL CONTRIBUTIONS TOWARD HELPING WITH THIS COLUMN ARE GREATLY APPRECIATED. Click here to donate now.  A SPECIAL THANKS to all who made contributions.
Thought for the Week: "The last point of all the inward gifts that doth belong to an angler is memory"… The Arte of Angling, 1577
From the Miramichi Salmon Association
The MSA cordially invites you to attend a major fisheries conservation funding announcement by the Honourable Gail Shea, Minister of Fisheries and Oceans. This very important event is taking place tomorrow, Friday, September 6 at 10:00 AM at the Miramichi Salmon Conservation Center in South Esk, NB. Joining Minister Shea will be Tilley O'Neill-Gordon, Member of Parliament, Miramichi NB.
Please try and attend this important event as your participation will help serve to reinforce the public's very high interest and desire for enhanced conservation action to better protect and sustain our cherished Miramichi salmon.
The MSA looks forward to seeing you on Friday.
~~~~~~~~~~~~~~~~~~~~~~~~~~~~~~~~~~~~~~~~
Hi All
With the Labour Day weekend fast approaching most of us will be finishing up our summer vacations and looking forward to fall. The question here on the Miramichi is will there be a fall run? Numbers at the traps have been low showing no sign of the run as of yet.
The barriers are holding more fish than the same time last year but still not big numbers with grilse counts staying low. The Northwest Barrier, as of August 25th, had 150 grilse and 200 salmon – compared to 143 grilse and 123 salmon the same time last year. Grilse counts in the 7 years prior to 2012 averaged 455 fish at the barrier by mid-August so we are definitely running low. Salmon counts however averaged 163 fish by mid-August for the 7 years prior to 2012 so the Northwest is having a good salmon run in comparison.
The Dungarvon Barrier, as of August 25th, had 191 grilse and 225 salmon – compared to 132 grilse and 107 salmon the same time last year.  Grilse counts in the 7 years prior to 2012 averaged 342 fish at the barrier by mid-August so our grilse numbers remain low. Salmon counts averaged 141 fish by mid-August for the 7 years prior to 2012 so the Dungarvon is also producing higher numbers of salmon than in past years.
The unofficial numbers for smallmouth bass catches at Miramichi Lake are not promising. So far this summer the field crews have caught 391 young of the year, 2 juveniles, and five 3 year olds. This compares to 2012 catches of 36 young of the year, 7 juveniles, one 3 year old and two 4 year olds. This is the fourth year that the Miramichi Watershed Management Committee (MWMC) has been assisting DFO with their program to eradicate the bass from the lake. The hope was that by year three adults would have been removed and no spawning would take place, and thus there would be no young of the year present. The successful spawning in 2013 will provide for much discussion this winter as we look forward to the 2014 season. The MWMC has provided staff to man the barrier that blocks fish from leaving the lake for the past four years with funding assistance from the NB Wildlife Trust Fund and the NB Environmental Trust Fund.
MSA field crews are now in the middle of our electrofishing program. This annual program assesses the distribution of juvenile Atlantic salmon in the headwater areas of the Miramichi River watershed, which may not be easily accessible to spawning adults due to low water or impediments such as beaver dams. If low densities of juveniles are found, the areas are identified and will be stocked next year with salmon fry raised at the Miramichi Salmon Conservation Center (MSCC) here in South Esk. MSA staff is also assisting DFO with their electrofishing program that has been monitoring the same sites annually to assess juvenile salmon populations over time. This survey targets good quality habitat in the lower reaches of the watershed. This allows us to compare the numbers of fry and parr from year to year, determine survival from each juvenile stage and determine if different tributaries are meeting the production targets. The electrofishing program has been financially supported by the New Brunswick Wildlife Trust Fund for many years.
Broodstock collection will begin mid-September with staff gathering wild salmon for spawning at the MSCC. If you would like to volunteer to help out with the broodstock collection please call the South Esk office at 506.622.4000. Check the website at http://www.miramichisalmon.ca/programs/broodstock-collection-spawning/ in September for the schedule for 2013.
The 18th Annual Fredericton Conservation Dinner will be held September 17th, 2013 at the Fredericton Inn. This year's honouree is Bud Bird. Bud has served as both President and Chairman of the MSA and most recently took on the job of Campaign Director of the MSA's 60th anniversary fund raising campaign, for which he has spent much time and energy and we are all very grateful. Please join us to pay a well-deserved honour to Bud – tickets are available from Jo-Anne at 506.457.2220 or from me at 506.622.4000.
And speaking of Bud's hard work, the support for Campaign 60 continues to grow. Thanks to a wonderfully supportive membership and the very hard work of a 100 plus volunteers, the MSA's 60th Anniversary fundraising campaign continues to generate great interest and support. To date, 225 donors have made commitments, totally more than $1,587,000, to Campaign 60 and the Miramichi Forever Funds it has established. These critically important funds will help insure the MSA has the long term means and capabilities to meet the ever growing challenges of protecting and conserving our cherished Miramichi salmon. The MSA sincerely thanks all those who have already made a campaign contribution and hopes many others will consider participating in salmon conservation by way of adding their own support to Campaign 60. To learn more about how you can be a part of Campaign 60, please contact the MSA or simply visit the Campaign 60 section on the MSA's website at http://www.miramichisalmon.ca/msa-60th-anniversary/. We also have a number of anniversary items available for sale on the website – please visit http://www.miramichisalmon.ca/shop/products/ to check them out.
Finally I would like to mention that the MSA has recently been awarded funding for an extensive beaver dam program for this fall and 2014. Plans are just coming together but I will have more information on areas we will be covering and dams breached in the coming weeks.
Enjoy this last long weekend of summer – evenings are cooling down and fall is on the way. It is the best time of year in my humble opinion.
– Nola
~~~~~~~~~~~~~~~~~~~~~~~~~~~~~~~~~~~~~~~~
From the Atlantic Salmon Federation
ASF On Line Auction – Bidding Now Live!
Visit  ibidmobile.net/asf to start bidding on great trips, gear and more.  If you have used our Ibid system before – you can use the same login name and password again.
Bidding is now open and closes Monday September 9th at 8pm EST.
Items available include; A hard to come-by Bogdan Reel,  A Dove Hunting Trip to Argentina,  An Algonquin Resort Golf Getaway, and Fishing at Salmon Lodge in the Gaspé.
All auction purchases help support the conservation efforts of ASF and our affiliates.  Check it out!
~~~~~~~~~~~~~~~~~~~~~~~~~~~~~~~~~~~~~~~~
From the Atlantic Salmon Museum
Hello Everyone,
The time is upon us again for our annual Hall of Fame Fundraising Dinner. The Hall of Fame dinner is the most important fundraiser that we have every year. I am including the Press Release for your review. Please spread the word and pass these details on to any contacts that you have. For further information or to book tickets please call the museum.
Jenny Colford, Manager
Atlantic Salmon Museum, 263 Main Street, Doaktown, NB E9C 1A9
2013 Miramichi Salmon Museum Inc. Hall of Fame Press Release
The Atlantic Salmon Museum in Doaktown, New Brunswick, will host its annual 'Hall of Fame Award Banquet' on Saturday, September 14th. For those attending the dinner, there will be an open house at the Atlantic Salmon Museum from 4 – 5 p.m. followed by a 'meet and greet' reception at 5 p.m. in the Doaktown Curling Club.
A buffet style dinner including beef, salmon and fiddleheads will be served at the Curling Club at 6 p.m. The price for this special event is $75, and a tax receipt for $40 will be issued. A limited number of tickets are available, and they go quickly.
During the banquet, there will be a live auction of 2014 donated fishing waters plus much more. Please call (506) 365-7787 to pay for your ticket or stop by the Museum, 263 Main Street in Doaktown.
Inductees for 2013 include:
DAVID ADAMS RICHARDS of Newcastle, NB, has grown up on the Miramichi and has been fishing his entire life. David has written 20 books to date, including "Lines on the Water", a non-fiction book about fishing on the Miramichi. He has won most of the Canadian literary awards including the Governor General's Award in 1998. David will be inducted in the ANGLER and WRITER CATEGORY.
VIVIAN HARRIS-ASTLE of Wayerton, NB, began her career in the salmon fishing industry in 1987 as a cook's helper at the Miramichi Fish and Game Club on the Northwest Miramichi River. Vivian worked primarily at Camp Adams for the next 14 seasons. In 1988, Vivian was promoted to Camp Cook and then to Camp Manager in 2001 when she began her 12 season career as a guide and warden. In total, Vivian has been employed by the Miramichi Fish and Game Club for 26 seasons. Vivian will be inducted in the GUIDE and CAMP MANAGER CATEGORY.
DIEPPE FLY TYING CLUB of Dieppe, NB, was founded in 1999 when several dedicated fly fishermen in the Moncton/Dieppe area created a club for local fly tiers/fishermen. The club originally started with only men, but has grown to include many women and children. The Dieppe Fly Tying Club has been involved in many projects that have assisted several non–profit organizations to raise funds to help salmon research and aid conservation efforts. The Dieppe Fly Tying Club will be inducted into the FLY TYER and CONSERVATIONIST CATEGORY.
~~~~~~~~~~~~~~~~~~~~~~~~~~~~~~~~~~~~~~~~
Until next week
TIGHT LINES
DOUG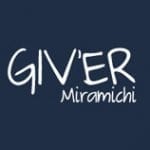 Giv'er Miramichi is about "What's up, what's new, what's happening". We are focused on building people up, supporting one another and celebrating our successes.