NB Power Offering Instant Rebates

NB Power is helping New Brunswickers save energy and money by offering instant rebates on a range of energy-saving products in February and March.
"We are working hard to help our customers save money on energy-saving products that will give them the extra bonus of saving on their monthly power bills," said Gaëtan Thomas, president and chief executive officer of NB Power.
Through the Save Twice program customers will receive in-store rebates of between $10 and $15 for each eligible electronic and programmable thermostat for electric baseboard heaters.
Electronic thermostats allow consumers to set and maintain the temperature in a room to a comfortable level without the temperature swings that happen with less accurate, non-electronic models.
Programmable thermostats can save even more by automatically setting back the temperature at night and during the day while most people are not at home.
In March, the instant rebates will be extended to more eligible energy-efficient products at participating retailers. Discounts of $3 to $15 are being applied to eligible ENERGY STAR qualified CFL and LED light bulbs, WaterSense labeled showerheads and electronic thermostats.
Details on how consumers can take advantage of the rebate program are available online.
The in-store rebates follow last November's appliance rebate program. For the month of November, NB Power offered $75 mail-in rebates to New Brunswick residents who purchased eligible clothes washers and refrigerators. Nearly $95,000 in rebates were available through this program.
Save Twice is a part of NB Power's long-term strategy to reduce future costs, reduce reliance on fossil-fuel energy, and provide customers with tools to control their monthly bills. Additional efficiency rebate programs will be designed and rolled out during the next three years.
The strategy also includes investments in technology to make better use of green energy through Smart Grid, the introduction of electric vehicles and the province-wide rollout of energy-saving LED street lights for municipalities.
Efficiency New Brunswick will deliver the rebate program on behalf of NB Power. The provincial government committed provincial electric utilities to invest in efficiency programs as part of its 2011 New Brunswick Energy Blueprint.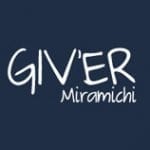 Giv'er Miramichi is about "What's up, what's new, what's happening". We are focused on building people up, supporting one another and celebrating our successes.