On Sunday February 2nd at 2 pm the opening reception of works by Laura Lea Comeau will be held at Galerie ARTcadienne, Carrefour Beausoleil, 300 Beaverbrook Road in Miramichi. Her exhibition called "Sole and Soul Experience" will be on until March 17th.
Laura grew up in Manitowoc, Wisconsin by Lake Michigan where she was always out in nature, dragging found items home to create art in her bedroom. She admired the large wood burning pieces her uncle made, which changed the way she looked at the world of art. It could be created out of anything.
After high school she began to pursue formal art studies but after only one semester of art history her father passed away and she returned home. Later, after her daughter was born, she took art classes and workshops whenever she could through the day while working at night. Her instructors were always surprised by how her paintings would start out in one direction and end up being something completely different.
"I never know exactly how the painting is going to end up," says Laura. "Mostly the paint just paints itself and shows me the direction to go in." Laura's art is inspired by her love of nature. Each work attempts to share her experiences of the places she's been. In addition, her fascination with Fairies carries over from the explorations in the bush and shorelines.
Laura enjoys working with other art forms including black and white ink drawings, photography, beading, clay sculpting, jewellery making and creating whimsical pieces out of driftwood, acorns and things she finds in nature. Her photography was included in the Canadian Geographic special edition "Wild Weather 2012".
Laura Lea has been exhibiting and creating art for the last 30 years participating in many juried exhibitions in her home state. In 2004, she married Larry Comeau of Miramichi and moved to Marathon, Ontario to pursue her art full-time. She immediately became a very active member of the local art community, organizing classes for children, forming an art association for regional artists, and owning and operating an artists co-op. In 2007, she was awarded a Northern Arts grant by the Ontario Arts Council for her project Historic Bays of North West Ontario and a month-long one man show of these works for public view. She has self-published several photography books of Northern Ontario and published an art book culminating works from 2004 to present. In 2011, she was a volunteer art consultant for Pukaskwa National Park – Parks Canada, organizing 25 regional artists for a reinstatement of the Art in the Parks program which continues this year.
Laura Lea and her husband now reside in Derby. She is currently working with the Experimental Artists Collective, a fledgling group of artists in Miramichi and managing the Water Street Gallery Co-op.
From Lake Michigan to Lake Superior and now the Miramichi River, Laura is happy to once again be living by a body of water she calls home. The exhibition of her works at Galerie ARTcadienne is open to the public seven days a week until March 17th. For more information visit her website at www.lauracomeauart.ca.
The  Galerie Artcadienne is open seven days a week and admission is free. Visiting hours during the week are from 8 am to 9 pm.  On the weekend they are open from 9 am to 5 pm. The Galerie is located at 300 Beaverbrook Road. For information telephone 506.627.4125.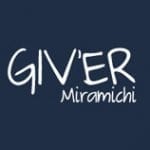 Giv'er Miramichi is about "What's up, what's new, what's happening". We are focused on building people up, supporting one another and celebrating our successes.