A Love of Beauty—Amoura Aesthetics
In 1995, Tracey Bryenton-Power decided to take a chance and follow her dreams. She opened Amoura Aesthetics on Pleasant Street in Newcastle as a small one room, one person operation. For the first three years Tracey worked nights as a bartender at the Opera House to earn spending money so that she could invest Amoura's earnings back into the business. After the third year, her business really took off and Tracey added an employee to help her manage the ever growing clientele. By the sixth year Tracey decided they needed more space so Amoura moved and expanded again, adding a hair stylist to the list of services provided. It didn't take long for Tracey to decide to spread her wings once again, adding an educational facility.
The school was a huge success winning awards for top marks in practical and theory for all of New Brunswick. And after nine years, they're still winning awards. The school's success might be partly attributed to Tracey's somewhat unconventional teaching style. For example, she likes to incorporate meditation and yoga into class studies.
"I believe in empowering my students through positive reinforcement of values that are important for servicing the general public," Tracey says. "I ask my students to write ten things they are grateful for everyday, to bring to light the positive aspects of their lives and remind them that the little negative things that happen shouldn't outshine all the positive things."
She also asks her students to perform one good deed each week as part of their learned skill set so they can see how much greatness will be returned back to them.
However, the bulk of Amoura's success can only be attributed to Tracey herself. She is a huge believer that passion, the love for what you do, and hard work are the key ingredients to the success of any business. And there can be no doubt that Tracey is very passionate about her business and continues to work hard to ensure its success.
She is also a provincial representative and educator for BioSculpture, an international gel nail product line. And the Amoura school has been chosen as a pilot school for Babor Canada. This means the school is acknowledged and listed as a Babor Certified school on their website. And Babor Canada offers two monetary scholarships to graduating students each year as well as partnerships with other Babor affiliated salons and spas internationally for work experience and prospective job opportunities after course completion.
Now, in her 18th year of business, Tracey is pursuing another of her passions—fashion—by adding a small clothing line to Amoura.
"The thought has been there for years, and finally the dream has become a reality," she says. "I'm starting out small and hopefully over time this will also grow."
With nearly 20 years of success following her love of beauty, any passion Tracey chooses to focus her attention toward will no doubt flourish.
Amoura Aesthetics is located at 205 Edward Street. For more information about their services or upcoming courses, visit their website at www.amouraaesthetics.com or telephone (506) 622-4331.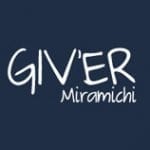 Giv'er Miramichi is about "What's up, what's new, what's happening". We are focused on building people up, supporting one another and celebrating our successes.