Employee of the Month: Greg Doyle
We're finding valued local employees who really GIV'ER and contribute to the community, in spite of their disability. Introducing Greg Doyle:
Condition: Cerebral Palsy
Education: James M Hill Memorial High School class of 1989; various computer courses from Horizon College, NBCC, and PLC (Progressive Learning Centre); various job specific training programs; some University
Work History: Office Manager for Nelson Softball Association; Canada Firearms Centre
First Job: Genealogical Research Assistant at St. Michael's Museum
Current Job: Program Director, Miramichi Independent Living Centre
If you could do one job until retirement, what would it be? "My current job, or to continue doing advocacy work of some type, on behalf of the disabled community.
Work Philosophy: "It's important that we do as much as we can as persons with disabilities. Sometimes the struggle is the message. The funny thing about having a disability is that you might think people look at you and say 'Aw, poor guy' in their heads, but who's to say they're not really looking at you and thinking 'Wow! Look at that guy!'"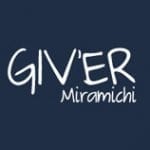 Giv'er Miramichi is about "What's up, what's new, what's happening". We are focused on building people up, supporting one another and celebrating our successes.