Miramichi Shrine Club Successfully Raises Funds
Having come to the end of another fun filled year looking after the transportation of children and supporting Shriner's Hospitals for Children, at their Christmas party the Miramichi Shrine Club had the pleasure of presenting two cheques to their head office "Luxor Shrine", plus a donation of food to the local Food Bank.
In 2013 the Miramichi Shrine Club's activities and fund raising were very successful due to the generosity of our great Miramichi folk. You may have noted or taken part in the Sterling Manderville Memorial Golf Tournament held at the Miramichi Golf Club. This was the Miramichi Shrine Club's main fund raiser, and due to the generosity of their sponsors and supporters, and those taking part in the "Four Man Texas Hold'em", a great time was had by all, followed by a delicious dinner hosted by the Golf Club, and the prize awards.
Due to this great event their fund raising came out on top, giving them the opportunity to present an extra donation of $2000 on behalf of the Facts and Figures Unit, to the building of the new Children's Hospital in Montreal.
Luxor Shrine Clubs in the Province are tasked with raising $14,000 each year for 10 years, as part of the building cost of this new hospital. A cheque of $1400 was also presented by Noble Dave Bucklow, president of the Miramichi Shrine Club at the party. This is an extra to the normal fund raising they usually need to complete, tasking their members more than usual. Luxor has raised the $14,000 for the past two years, so they have eight more years to go, but with such great support they should be able to shorten that number.
There was a "Corner Stone" laying ceremony earlier last year, that was a grand event for all Shriners, as it is a rare thing today to be building a new hospital, and starting this one has been a long time in the planning. Expected completion date is in 2015.
The Miramichi Shrine Club thanks everyone for their generosity, and wishes one and all a very Happy New Year!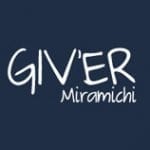 Giv'er Miramichi is about "What's up, what's new, what's happening". We are focused on building people up, supporting one another and celebrating our successes.