Recipe: Caramelized Onion Pear & Brie Flatbread
Caramelized Onion Pear & Brie Flatbread
Source: Sobeys Dietitians
Serves 16
Ingredients:
2 tbsp 30 ml Olive oil, divided
1 cup 250 ml Onions, thinly sliced
12 inch Pizza crust, prepared
1 tbsp 15 ml Red pepper jelly
1 large Pear, cored, thinly sliced
¼ tsp 1 ml Pepper
100 g Double cream brie cheese, sliced, cut into 1 inch pieces
2 tbsp 30 ml Thyme, fresh, chopped
Directions:
1. Preheat oven to 400° F.
2. Heat 1 tbsp of oil in a non-stick skillet over medium-low heat and slowly cook onions, stirring occasionally, until soft and caramel coloured (about 25 minutes).
3. Brush flatbread with remaining oil and jelly.
4. Spread onions and pear slices evenly over top of crust. Season with pepper and then top with brie and thyme.
5. Bake in centre of oven for 10-12 minutes or until the brie is melted and pears are tender. Let cool slightly and serve.
Tip: Add toasted pecans for extra taste and crunch
Nutrition Information per Serving:
Calories 116
Fat 6 grams
Carbohydrate 14 grams
Fibre 1 gram
Protein 4 grams
Sodium 106 milligrams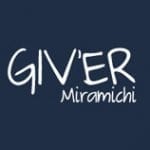 Giv'er Miramichi is about "What's up, what's new, what's happening". We are focused on building people up, supporting one another and celebrating our successes.