Governments Invest in R&D at Northumberland Co-op
The provincial and federal governments are helping Northumberland Co-operative Ltd. develop a value-added, milk-based drink to meet increasing demand for quality and healthy beverages.
"Value-added food is an important priority growth sector in New Brunswick," said Human Resources Minister Robert Trevors. "Our investment will assist Northumberland Co-operative Ltd. in a research and development project to potentially produce a single-serve, value-added drink in Miramichi."
Trevors spoke on behalf of Economic Development Minister Bruce Fitch.
"Our government's support will help to ensure that New Brunswick's dairy sector remains competitive and ready to seize new opportunities," said Miramichi MP Tilly O'Neill Gordon. "For more than 70 years, Northumberland Dairy has been providing quality dairy products to New Brunswickers and their families. Today's investment will help the co-operative maintain an edge on new trending products in the food and beverage industry."
O'Neill Gordon attended for Rob Moore, minister of state for the Atlantic Canada Opportunities Agency (ACOA).
The provincial government is investing $25,000 while the federal government, through the Business Development Program administered by ACOA, is investing $23,238. The co-operative is contributing $9,856.
"Northumberland Co-operative Ltd. appreciates the support of the Government of Canada and the Province of New Brunswick in partnering with us on a new product," said Jack Christie, general manager of the co-operative. "Their assistance in our research and development efforts is important for our organization in meeting the changing requirements of our customers. This research activity fits within Northumberland's mission of providing New Brunswick with high-quality dairy products and developing new opportunities."
Since its beginnings in 1942, Northumberland has grown into a well-known, leading brand in New Brunswick. Northumberland is primarily a processor of fluid milk, broker/distributor as well a co-operative supply centre and food service supplier.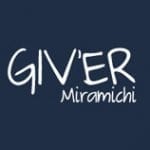 Giv'er Miramichi is about "What's up, what's new, what's happening". We are focused on building people up, supporting one another and celebrating our successes.