6th Annual Miramichi Fusion Festival
Family, children, businesses, organizations, volunteers, committee members and the general public will gather at Golden Hawk Recreation Complex and surrounding grounds at 8 am this Saturday, May 24th, for the 6th Annual Miramichi Fusion Festival, in support of Autism Resources Miramichi. For the past five years families have gathered and participated in this fun filled day to form and strengthen our community. And the Festival continues to grow each year. The purpose of the Miramichi Fusion Festival is to create an open event that:
Unites our city through planning and participation
Demonstrates to youth the desire to participate in their community
Provides youth with information and connection for their participation in community life
Raises money for a worthwhile cause.
"It's wonderful to see so many people from the community demonstrating their support for the Autism Resource Centre and the important service they provide," says Lyla Berry, organizer and committee member of the Autism Resource Centre.
Fundraising activities, corporate sponsorships and private donations are primary sources of funding and a key component of the event's success. The Autism Resource Centre will be able to offer teen programs, parent training, education, awareness programs, and much more.
One out of every 88 children has a diagnosis of Autism Spectrum Disorder, translating into approximately 590 individuals and families living with the disorder in Northumberland County.
Organizers of the Miramichi Fusion Festival believe that if we can lay a foundation with values such as justice, mercy, compassion, respect and industry rather than self-interest and survival, we pass onto the next generation building blocks so they can make meaningful choices and contributions. By doing so, we build relationships, creativity and initiative in our community.
So join them for a day of fun! Admission is free and plenty of activities are planned to participate in and enjoy!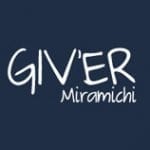 Giv'er Miramichi is about "What's up, what's new, what's happening". We are focused on building people up, supporting one another and celebrating our successes.