Miramichi Fishing Report for Thursday, May 22, 2014
Full-moon tides, a lot of rain and snow-melt have made the rivers high and dirty, making fishing rough for most anglers.  Sunday was probably the best day for Striped Bass with catches much harder the rest of the week.  Hopefully water levels drop and warmer temperatures make it more desirable to be on the rivers.
The biggest news has been the extension of the Striped Bass retention season.  Wednesday (yesterday) was the normal end of the one a day keeper-angling, but DFO announced a four day (Thursday to Sunday May 25) extension, with anglers being allowed to keep two striped Bass (50-65 cm) on each of those days.  After Sunday anglers can still fish for bass, but it is all hook and release until August.

Doug White's Tammerack Sports Fly Shop in Juniper said there was nothing to report. Water is at least 5 ft. over normal. There will be no fishing up there until sometime early June….maybe.
W. W. Doak and Sons in Doaktown said there were still some spring salmon around as they were seen jumping in the middle of the river which meant there were beginning to drop down to head out to sea.  However, with the rain and snow-melt, the river had come up three feet, making the water high and dirty.  As far as trout were concerned, anglers were picking up only a few, but this is normally the time for the sea trout to start.  With the slow start to spring, it will be interesting to see if the usual time holds true this season.  There were some fiddleheads until the raise in water which flooded the islands.
Flies of choice were Gray Ghosts and smaller streamer patterns such as Black Ghosts and Mickey Finns before the high water.  It will be back to larger streamers until the water drops.  Anglers were also using Muddler Minnows and Woolly Buggers for trout.
Derek Munn of Ledges Inn in Doaktown and Mountain Channel in the Rapids area had their sports in Miramichi fishing for striped bass this week.
Herb Barry Sr. of Herb's Fly Shop on the Station Road in Blackville said angling had been pretty good until the weekend brought a raise in water.  As a result, fishing was slow this week.  That has been the pattern this year: a couple of good days followed by some poor days.  There were only a few scattered reports of trout.  The water was staying high.
Flies of choice were Humpies and Mosquitoes for trout and Golden Eagles, Blue Smelts, Silver Smelts and Gold Smelts for spring salmon.
Curtis Miramichi River Outfitting in Blackville said angling was pretty slow this week with the high and dirty water.  There was one report of a trout in the four-pound range, but not many other trout reports.  It was getting close to end of spring salmon.  Generally, the weather was putting a strain on both river conditions as well as upon anglers.
Flies of choice were Maggott Smelts, Golden Eagles, Blue Smelts, Carter's Bugs, Muddlers and Woolly Buggers.
George Routledge of George's Fly Shop at the Mouth of Renous in Quarryville said fishing was poor.  He had only six people drop into his shop over the weekend.  Rather than angling for spring salmon, most were out for trout and striped bass.  There was a 17-inch trout caught on the Renous and a 21 ½ incher at Doyle's Brook.  The boaters were catching more than the shore anglers.  Most were using tackle rather than flies.  The water was high and dirty, and would probably stay high for a while due to the amount of snow in the woods.
Flies of choice were Renous Specials, The Wulff patterns and Muddler Minnows.
Jim Laws of Miramichi Hunting and Fishing in Newcastle, Miramichi reported there was not a lot happening on the spring salmon front.  Most anglers were concentrating on striped bass.  Sunday had been a good bass day, but the higher tides and raise in water brought the number of catches down considerably Monday, Tuesday and Wednesday.  There was only the odd trout report, and nothing of size.
Flies of choice were Black Ghosts and Renous Specials for salmon, and mostly the rubber lures for the bass.
Syd Matchett of Trout Brook Fly Shop on the Northwest Miramichi said the Northwest was very quiet as far as salmon were concerned as the water was very high and dirty.  Anglers had still been catching salmon and grilse until the weekend.  There were no trout to speak of.  Most anglers had shifted to bass fishing.  Syd had forgotten the effect of tears from the Montreal fans when considering the high water levels.
Flies of choice were Golden Eagles and Black Ghosts for salmon, and a variety of the seven types of Storm Rubber fish and five-inch anchovies for bass.
Brett Silliker of Upper Oxbow Outdoor Adventures on the Little Southwest Miramichi said water conditions were very cold, very high and very dirty.  The striped bass had started up the Northwest, but were pushed back by water conditions.  There had been some spring salmon still around before the weekend, but the high water had put an end to angling for them.  There were only a few trout reported.
Flies of choice were Golden Eagles and Smelts for spring salmon, and Deceivers in red & white and green & white for bass.

So with the four-day extension on the Striped Bass retention season and a daily limit of two a day (between 50 & 65 cm) during this four-day period , hopefully the beginning of some trout runs, a few spring salmon, and just maybe an odd bright fellow sneaking by , it is time to get out and "on the water".
Don't forget to show your support for our sponsors, because without them, this column would not be possible.
Check out Deals 4 U in Miramichi for your grocery needs, and good Cuban cigars to celebrate getting back to the rivers.  Drop by Mac's Seafood for Miramichi Smoke House Award Winning Smoke Salmon.
ANY FINANCIAL CONTRIBUTIONS TOWARD HELPING WITH THIS COLUMN ARE GREATLY APPRECIATED. Click here to donate now. A SPECIAL THANKS to all who made contributions last season.
If you would like to sponsor this column, give us a call at (506) 352-7668 or email .
Thought for the Week: "There is no greater fan of fly fishing than the worm."  –Patrick F. McManus
E-MAIL:
HI Doug
I really enjoy and look forward to getting your report every Thursday and just want to give you the thumbs up on a great job and keep up the great work!
I'm not sure if you can print these or not in your next report but I thought it would be nice to add a couple pics of women getting into the sport and catching fish too !  The first pic is  a bitter sweet story. This is Jenilee McIsaac and myself (Ian Mollins) two Saturdays ago. It was her father's (Stephen) dream to see his twin daughters (Jenilee & Christine) experience what it was like to catch a salmon, since he is a family friend and I have a place in Blackville and the equipment I naturally jumped at the opportunity to help him as he would do the same for me or anyone else for that matter , Jenilee hooked and landed her first fish and it just happened to be a huge hen salmon , talk about a proud father and daughter moment , something money couldn't  buy. We were trying to arrange for Christine to have her turn a few days later but unfortunately Steve lost his battle with Cancer the following Thursday morning,  we lost a great man and a great hunting/fishing enthusiast and he will be greatly missed by family and friends . Christine is still determined to come and get some fish too and her proud father will still have his eye on her from above. Jenilee is hooked for life now needless to say Christine will be too as she and her sister are nature nuts and very competitive and drive to succeed at everything they do , they are going to make it an annual trip every spring in his memory now .
The next pic is my wife (Lesa Mollins) , I been trying to get her to come fishing with me for several years but she just can't get passed the  4:00 in the morning thing ect. LOL!, but I got her out for spring fishing and she caught her first fish the other day as well ! And it happened to be a nice hen salmon too!  Now we have 3 new female fisherwomen lol!  And I'm glad that she is now hooked and also has hooked and landed 3 for 3 now , so who knows maybe I can get her out of bed early now for summer fishing !
Thanks again
Ian Mollins
—————————————————————————
The river has been high since Sunday so we haven't been doing much salmon fishing since then. But up until Sunday we were still catching salmon and seeing a lot jump. I suspect this high water will be the end of the spring season in our area. Most of the fish we have been catching were MSW salmon, thee in great shape an fighting hard.
A couple of boys and I from Ledges went striper fishing yesterday it was slow at first but the last couple hours made up for the slow afternoon.
Picture – Andrew Anthony and Greg Amos.  I took the pic.
Derek Munn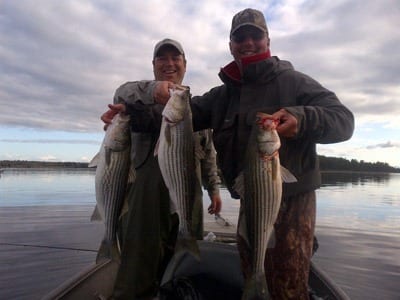 —————————————————————————
Until next week
TIGHT LINES
DOUG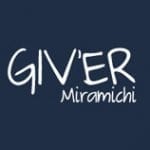 Giv'er Miramichi is about "What's up, what's new, what's happening". We are focused on building people up, supporting one another and celebrating our successes.