Acclaimed as one of the finest theatrical productions on the River, the Friends of Beaubears Island will stage the one-act play, What's to Come?, live on Beaubears Island July 26 at 2 pm. Tickets are available for purchase at the Beaubears Island Interpretive Centre in Bicentennial Park, Nelson.
Beaubears Island Executive Director, Wendy Comeau insisted that the production be performed on the Island itself to add a whole new dimension to the show. Yet, the best is yet to come as an all-star cast has been assembled to fill the many roles. Actors from the acclaimed MVHS Drama Club have been recruited to join the Island's staff of characters to make the past come to life in this unique performance. These young men and women have, in these past years, under the sterling direction of Friends of Beaubears Island board member and inspiring educator Chris Matheson, reached great theatrical heights, and one can be sure that the show on Saturday will be no exception.
The play deals with the harsh economic climate of the late 1840s, in the years when Joseph Russell owned the Island. The actors are excited about the opportunity to put on the drama surrounded by the natural beauty of the Island. How appropriate it is to see Joseph and Ann Russell, played by Shawn McCarthy and Katlyn Cassidy, worrying about their future, while standing before the statuesque Russell Tomb. Moreover, how stirring it is to hear the cry of shipyard workers, as they are supervised by John Harley, played by Ryan Van Buskirk. The whole affair seems to breath new life into the entire isle and revive its storied past.
Tickets are selling fast, so don't miss out on your chance to see this one of a kind live performance on the Island. For more information on this, and other upcoming events and tours, please call 622-8526 or visit beaubearsisland.ca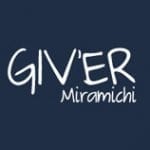 Giv'er Miramichi is about "What's up, what's new, what's happening". We are focused on building people up, supporting one another and celebrating our successes.