by Shawn McCarthy
In last week's Miramichi Men's Fastpitch League play, Bass River rolled into town for their customary Tuesday night double-header. After clipping the wings of the Eel Ground Eagles by a narrow 8-7 score in the first game, they set up to take on the Miramichi 'Jungle Jim' Brewers in the second game of the evening.
Looking to keep their momentum going, and sour the brew of the hometown boys, the visiting squad jumped out to an early 3-0 lead. However, the dogged Brewers cut that lead sharply, rendering the score 3-2 by the bottom half of the first inning. A double by Devon McKenzie and a Mike Boudreau triple allowed the Brewers to take a 5-3 lead in the third. Bass River would pull within one in the top of the fourth but the Brewers would add two more runs in the bottom half and hold on for the 6-4 victory. Ashley Cosgrove struck out five batters, earning the win on the mound for the Brewers while Cody McDermott was tagged with the loss.
On Thursday night, the Miramichi Red Sox tangled with the 'Jungle Jim' Brewers in a double-header of their own. The initial tilt saw the Brewers take an early 2-0 lead courtesy of a 2-run single from Tyler Shaddick. The Brewers held a 2-1 lead until the fifth, when the Red Sox pushed two runs across the plate to take the lead, and then added another in the sixth to go up 4-2. The Brewers threatened to tie it up in their final at bat with two runners on, but ace hurler Dan Goodin secured the win with his sixth Strikeout to end the game. Ashley Cosgrove suffered the loss while striking out six.
The Brewers Herculean labour had come to not, and having spent themselves in this titanic effort, they fell prey to the Red Sox' talented and diverse roster in the second game. The Red Sox offence came alive and pounded an 11-3 score into the Brewers. Jimmy Keenan got the win, striking out 12 and Devon McKenzie took the loss and notched 2 strikeouts.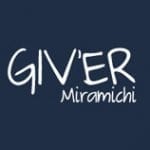 Giv'er Miramichi is about "What's up, what's new, what's happening". We are focused on building people up, supporting one another and celebrating our successes.