Parks Day & Celebratory Landing at Beaubears Island
Today, July 19th, Parks Canada honours their National Parks and Historic Sites across the country and Beaubears Island plans to spread the cheer all around Miramichi River as they celebrate by reviving the Island's storied past with "A Day in the Times of Beaubears Island".
Between 10 am and 4 pm the Interpretive Centre will be open free of charge and the famous "Barbara Ann" will transport visitors across the river and back in time for the low price of $5. As you walk among the towering pines, visit with Island denizens and Nelson magnates. See industrialist John O`Brien, and his son, and future Island owner and Lieutenant Governor, J. Leonard O`Brien. Visit with Florence McKane, and her brother Hubert Sinclair, both former owners of the Island, as they discuss its future. Finally, chat with the many period visitors, enjoying the Island this Saturday afternoon.
Beaubears Island lives again, as a bevy of local actors and historical enthusiasts will don traditional dress and animate the Island; silent since 1866. Come and see the Island restored to her past glories and stay for a time and explore its natural treasures for yourself.
For further information, call the Centre at 622-8526, or visit beaubearsisland.ca and check out our list of summer events.
Celebratory Landing
Saturday July 19,2014 • 4 pm
Ile Beaubears Island Interpretive Centre
35 St Patrick Drive, Nelson Waterfront • Miramichi, NB
On behalf of the Friends of Beaubears Island , you are invited to join us in celebration of Canoe Kayak NB (CKNB) having restored six ancient portage trails. This special event from July 3-19 saw teams of paddlers travel an 800 km circular canoe route of the interior of New Brunswick utilizing only three of the newly refurbished routes.
This circular canoe expedition is referred to as "The Circuit". The Circuit began with a ceremony and ribbon-cutting at Mount Carleton Park on July 2. The teams hit the water; one river team headed southwest, the other to the northeast.
Today, join us as the teams converge at the Beaubears Island Interpretive Centre in Bicentennial Park on July 19 at 4 pm, for the Celebratory Landing. The Celebratory Landing marks the finish to "The Circuit", with arrival of canoes and presided over by special guest, the Honourable Lieutenant Governor Graydon Nicholas.
Anyone who would like can join us for a leisurely paddle on today's last leg of The Ciruit to descend either the Southwest Miramichi or the Northwest Miramichi to the Interpretive Centre at Beaubears Island. The event is co-hosted between Canoe Kayak NB (CKNB) and Friends of Beaubears Island.
Southwest Miramichi River:
Departure:  1:30 pm, McKibbon's 5226 route 108 Millerton
Exit:  around 4 pm on river right at the Ile Beaubear island Interpretive Centre, Bicentennial Park, Nelson-Miramichi, NB, 35 St. Patrick drive.
The distance is approximately a 6 km stretch of river.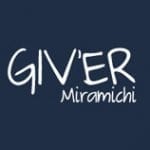 Giv'er Miramichi is about "What's up, what's new, what's happening". We are focused on building people up, supporting one another and celebrating our successes.