Miramichi Fishing Report for Thursday, July 17, 2014
As the high water from "Arthur:" settled, there was a definite improvement in numbers of fish coming into the system.  However, there has not yet been the usual "big run" of fish we normally expect.  So, the overall picture is positive, hedging hope for more to come.  Water conditions are generally good.  Check the MSA report below for some statics.

Doug White's Tammerack Sports Fly Shop in Juniper said water conditions are good for now, at least until we get a load of rain. There were several salmon caught on the main river and two salmon and a grilse caught on the north branch. Very few fishing partly for economic reasons and lack of fish showing. It's really too early to predict for the weekend but at least there is a place to fish.
Flies of choice: Jigaboo ( still # 1) and a dark bomber with white tails and orange hackle.
W. W. Doak and Sons in Doaktown said angling was quite a bit better this week, particularly from the weekend till Tuesday.  Water temperature was ideal although the height was fishably high from the mouth of the Cains down to Quarryville, and ideal above.  Rain Wednesday should keep the conditions close to ideal for the weekend.  Generally there was a good mix of salmon and grilse.  Angling above Doaktown was a bit slower.  It seemed as if there were small waves of fish coming through here and there, but over all it was the first concentrated amounts this season.
Flies of choice were Same-Thing-Murrays, Butterflies, Green Widows and White-tailed Green Machines on nos. 4 & 6s from Doaktown down, and 6 & 8s above Doaktown.
Derek Munn of Ledges Inn in Doaktown and Mountain Channel in the Rapids area said fishing was pretty good.  They had one great day when they hooked 20.  Last Sunday they hooked mostly salmon.   Since then it had slowed down, but was still decent.  Generally the mornings were better as the water temperature tended to increase throughout the day.
Flies of choice were White-tailed Green Machines, Shady Ladies, Undertakers, John Oland's and even some dry flies.
Herb Barry Sr. of Herb's Fly Shop on the Station Road in Blackville said they were catching some, but they were few and far between.  Herb Jr. did hook a nice 15 pound salmon Monday evening on a Cosseboom.  Herb felt that if one could put in the time, he might get a fish.  They were not seeing fish as they were on the move.  The water was high, but fishable.
Flies of choice were Green Rats, Blue Rats, White-tailed Green Machines, Preachers, Undertakers, Cossebooms, and Same-Thing-Murrays on nos. 4 & 6 hooks.
Curtis Miramichi River Outfitting in Blackville said it was a pretty good week, with catching starting on Sunday.  There were also fish reported in the Cains River as well as at Quarryville and the Renous.  There were no great numbers, but some fish moving through each day.  The water was still a bit high, but certainly fishable.  There were more salmon reports than grilse.
Flies of choice were White-tailed Green Machines, White-tailed Green Machines with red butts and Krystal Flash, Shady Ladies, Undertakers with Jungle cock, Green Highlanders, Same-Thing-Murrays, Bonnie Bells, Sugarman's Shrimps, Black River Shrimps and Green River Shrimps.
George Routledge of George's Fly Shop at the Mouth of Renous in Quarryville said anglers started catching Sunday when eight fish were hooked.  Then each day there was an average of 1-3 caught, but no great amounts.  The water was fishably high.  More were caught on the Renous then the Main Southwest.
Flies of choice were Shady Ladies with white tails, White-tailed Green Machines, Black Ghosts, Butterflies and Routledges on nos. 4 & 6 hooks.
Jim Laws of Miramichi Hunting and Fishing in Newcastle, Miramichi reported some fish being hooked, but there were not hoards of them.  The Northwest was quiet.  Water conditions were decent in height and temperature, and rain Wednesday should keep the conditions on the positive side.
Flies of choice were White-tailed Green Machines, Black Ghosts, Undertakers and Blue Charms.
Syd Matchett of Trout Brook Fly Shop on the Northwest Miramichi said angling was quiet, although some fish were being caught here and there.   Spey-caster and instructor Courtney Ogilvie hooked two at Wayerton on Sunday, and saw a couple roll.  Phyllis Landry also caught a grilse there as well.  Some of the camps in the area had decent fishing.  Some other anglers reported fish, while many more said angling was horrible.  Water conditions were perfect last week, but down slightly this week.  Rain on Wednesday was welcome with conditions predicted to be good for the weekend.
Flies of choice were Shady Ladies, Green Machines with Krystal Flash, Bear Hairs, Black Ghosts and Undertakers.
Debbie Norton of Upper Oxbow Outdoor Adventures on the Little Southwest Miramichi said angling was not great with just the odd fish being hooked.  They had caught a 2-pound grilse and released it on Tuesday.  The water temperature was good and at a fishable height
Flies of choice were a White-tailed Green Machine and a spare one.
So with some improvement in numbers (but no great run yet) and decent conditions, it is time to get out and "on the water".
Don't forget to show your support for our sponsors, because without them, this column would not be possible.
Check out Deals 4 U in Miramichi for your grocery needs, and good Cuban cigars to celebrate getting back to the rivers.  Drop by Mac's Seafood for Miramichi Smoke House Award Winning Smoke Salmon.
ANY FINANCIAL CONTRIBUTIONS TOWARD HELPING WITH THIS COLUMN ARE GREATLY APPRECIATED. Click here to donate now. A SPECIAL THANKS to all who made contributions last season.
If you would like to sponsor this column, give us a call at (506) 352-7668 or email .

Thought for the Week: "There is only one theory about angling in which I have perfect confidence, and this is that the two words, least appropriate to any statement, about it, are the words 'always' and 'never'."  Lord Edward Grey
———————————————————————————————-
From MSA:
Hi All
Well Tropical Storm Arthur hit Miramichi much harder than predicted and not only damaged homes and infrastructure but also caused havoc on the rivers. Water levels rose above spring high levels interrupting many fishing trips and destroying some important science equipment. The Sunday after the storm was the changeover day for the Crown Reserve stretches and many anglers spent hours cutting the fallen trees off of the roads to get out of the camps.
Barriers / Traps
The Dungarvon Barrier was completely wiped out on Saturday the 5th – at 1 PM the trash fence and upper barrier failed followed by the lower barrier and trap and the trap was washed downstream. Clean up and salvage has taken place and all material was removed from the river. Water levels are now down to a level that work can begin on reinstalling the upper barrier and trash fence. Thus no fish were counted this week.
Dungarvon Barrier Counts as of July 6th 2014
| | | | | | | |
| --- | --- | --- | --- | --- | --- | --- |
| | Grilse  (to 63 cm) | Small Salmon (64-84 cm) |  Large Salmon (>84 cm) |   Total Small &  Large |    All  Atlantic Salmon | Brook Trout |
| 2014 to Date |     40 |       10 |     29 |     39 |     79 |  23 |
| Previous Year |    149 |      72 |     111 |     183 |     332 |   48 |
At the Northwest barrier water topped the trap – there was some damage but all barriers held. There were no counts for Sunday and Monday following the storm but the rest of the week did see fish arriving. Numbers are still very low as compared to the same time last year.
Northwest Barrier Counts as of July 13th
| | | | | | | |
| --- | --- | --- | --- | --- | --- | --- |
| | Grilse  (to 63 cm) | Small Salmon (64-84 cm) |  Large Salmon (>84 cm) |   Total Small &  Large |    All  Atlantic Salmon | Brook Trout |
| 2014 to Date |     71 |       30 |     14 |     44 |     115 |  765 |
| Previous Year |     105 |      66 |     95 |     161 |     266 |   1029 |
The Millerton trap net was washed away but DFO has begun reinstalling. The Cassilis trap net survived as did the MSA trap net near Chatham.
The MSA trap in Chatham is fished Monday to Friday but following the storm we did not get out until Wednesday.
| | | |
| --- | --- | --- |
| Day/Date | # Salmon | # Grilse |
| Wednesday July 9th | 9 | 3 |
| Thursday July 10th | 7 | 15 |
| Friday July 11th | 11 | 16 |
| Monday July 14th | 2 | 6 |
We are tagging most of the fish caught in the trap to help with the adult assessment. If you catch a fish with a tag and want more information call me at 506.622.4000.
It is our understanding that the Chief and Council at Red Bank First Nation had voluntarily chosen not to fish gill nets for 2014. However, the trap nets were destroyed during the storm and are currently being reconstructed. We have heard that the fishermen are being allowed to fish gill nets and the numbers taken will be counted toward their allocation the same as if they were taken from the trap.
MSA Salmon Classic
The MSA Salmon Classic was held last week. Thirty-four anglers participated in this year's 3-day fishing event, which included folks from all 3 Maritime provinces, Maine, Massachusetts, New Hampshire, Vermont and New York. In spite of the spring like flood conditions created by the heavy rains from tropical storm Arthur, participants hit the river each day, fishing a different section of the watershed each session. Though only a few fish were seen, everyone certainly appeared to enjoy this very unique and special Miramichi experience, with many first time participants already saying they'll be back again next year! The MSA wishes to thank the participants and volunteer guides who helped make this year's event such a great success!
High water reminds us to use a PFD
The recent spring flood like conditions created by Tropical Storm Arthur reminds us to remind you to wear a personal floatation device (PFD) whenever you are out in a boat this summer. The MSA sells a light-weight "horse collar" inflatable type life vest… visit MSA Life Vest or call 506-457-2220 if you might be interested in purchasing one for yourself or your fishing/boating companion.
Yours in Conservation
Nola
———————————————————————————————-
E-MAIL:
Hi Doug, always enjoy your report, I look forward to it each week. I have just one comment, and I offer it respectfully. I sure wish you would consider not posting pictures of people mishandling salmon, you could be a real force for good this way by simply stating "folks if your photos don't show fish being handled properly then they won't be posted" and keep the criteria for what that means on your site. You have the power to educate as well as inform.
Respectfully,
Daniel Porter
DOUG'S NOTE: To see proper release of salmon click here or on the photo below (you will be redirected to the Atlantic Salmon Federation website).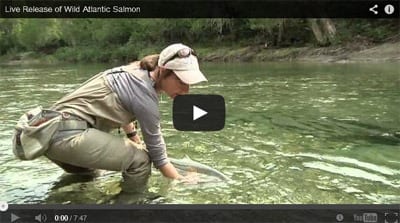 ———————————————————————————————-
Doug:
I and many others enjoy your column every week and were wondering if you could help me out. Hurricane Arthur took my boat downriver from Hinchey Pond above Norrad's Bridge. It was last spotted above Pond's Chalet in Ludlow. We have searched the river as far as Carroll's Crossing to no avail. The boat has a great sentimental value as it was built by Lloyd Waugh about 25 years ago and had my late fishing buddie's motor on it. It is an 18′ Flat bottom, V bow, Green with a gray bottom and was sporting a black 9.8 Merc "110" motor. If any of your readers can provide any info as to it's whereabouts I would love to hear from them. Thanks so much if you can pass this info on.
Jerry Spencer, 506-453-9319 or
My note:  If anyone has seen or found canoes/boats etc floating along the rivers, please contact .
Until next week
TIGHT LINES

DOUG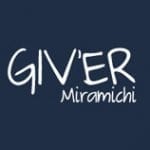 Giv'er Miramichi is about "What's up, what's new, what's happening". We are focused on building people up, supporting one another and celebrating our successes.