Seven year old Marty Dunn of Keenans saved enough money to buy her very own four-wheeler! Proud parents, Sheri and Neal Dunn, recently posted a special thanks on Facebook to everyone who bought lemonade from one of Marty's MANY lemonade stands. She raised the money by also having a yard sale where she sold her toys, clothes, and other items she didn't use any more. She saved bottles to sell to the recycling depot and family members gave Marty their recyclables to help her reach her goal.
"She has wanted a four-wheeler since early winter because her cousins, Tom and Aaron, have a four-wheeler and dirt bikes. There are lots of places behind our house for them to go ATVing," Marty's mom Sheri says. "Recently when she got close to her goal, she would get up in the morning to check Kijiji by herself. We finally found one in Salisbury and went to pick it up."
Congratulations Marty! You are an inspiration to all and a wonderful reminder of what can be accomplished when we Giv'er in Miramichi!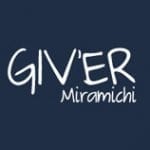 Giv'er Miramichi is about "What's up, what's new, what's happening". We are focused on building people up, supporting one another and celebrating our successes.