Miramichi Fishing Report for Thursday, August 28, 2014
The general consensus is that the numbers of fish around are not great, but there are dribs and drabs of fresh fish coming in each day.  So there are some around and they are challenging anglers.  But isn't that the whole point of angling?  If everyone won the lotto, there would be no lotto.  And there are the side benefits of angling: the beauty of the natural surroundings, the animals and birds seen, being on the water alone or with friends, the soothing sound of trickling water.  Sometimes, fish are a bonus.
Two years ago around this time the rivers were closed due to hot and low water.  Last year there we were awash in high water.  So at least this year we are able to fish and some are having success.  Just something to think about.
The Miramichi Salmon Association is presently doing electro-fishing, and will be starting to collect brood stock very early in September.
[wp_bannerize group="doug1″]
Doug White's Tammerack Sports Fly Shop in Juniper said even though the water is a good pitch there just isn't enough salmon in the river for fishing. Different reports come to me as "fished about four hours and never even had a fish show".
"Six of us fished for three days and hooked one old dark salmon". Unless some miracle happens the fishing is done up here. It's difficult to turn in a favourable report but this is how I see things up here and I'm just being honest.
W. W. Doak and Sons in Doaktown said there were a few fish around and anglers were out, but it was challenging.  But historically, angling is challenging, and perhaps this year is a reminder of that.  But there are some fish being caught for those who accept the challenge.  Water conditions are good, especially for late August.  Even during these few very hot days, water temperatures have been in the high 60s Fahrenheit at 8 a.m., though they tend to climb during the heat of the day.
Flies of choice were Undertakers, Bear Hairs, Same-Thing-Murrays. Shady Ladies, White-tailed Green Machines and Dry flies and Bombers.
Derek Munn of Ledges Inn in Doaktown and Mountain Channel in the Rapids area said water conditions were good, but gradually warming up.  A good rain would certainly help.  A few fish were caught on the weekend, but nothing major.  The past few days have produced only an odd fish.
Flies of choice were Bombers and smaller Fall patterns such as GPs and Ally's Shrimps.
Herb Barry Sr. of Herb's Fly Shop on the Station Road in Blackville said angling was very quiet.  He personally was not even seeing any amount of fish.  He had heard of an odd fish being caught, but the reports were few and far between.  Water conditions were perfect as the high water had dropped nicely and temperatures were decent earlier in the day.
Flies of choice were Bombers, White-tailed Green Machines and Preachers on nos. 6 & 8s.
Curtis Miramichi River Outfitting in Blackville said anglers were seeing some fish, but very few were in a taking mode, with only an odd one being hooked.  Water levels were good as were canoeing conditions.
Flies of choice were Undertakers, Same-Thing-Murrays, White-tailed Green Machines, Copper Killers, Carter Bugs and Bombers
George Routledge of George's Fly Shop at the Mouth of Renous in Quarryville said there had been only an average of one angler a day fishing there with nothing being caught.  A few fish were being seen on the Main Southwest, but nothing on the Renous.  Water conditions were great.  He's heard of a few fresh fish in the Blackville area.  Any fish that had been caught still had summer features rather then those of the Fall.
Flies of choice were Black Ghosts, Shady Ladies, White-tailed Green Machines, Butterflies and Bear Hairs with either red or green butts.
Jim Laws of Miramichi Hunting and Fishing in Newcastle, Miramichi reported good water conditions, but the catching was way down with only the odd fish reported.  There were very few Striped Bass caught in the Miramichi area during the second retention period, but that was expected as this is the time when the bass are distributed across their normal Gulf range.  Reports further down river were a lot better.  Hopefully the late September retention period will be more productive here, although early October would be a better time slot for the third retention period.
Flies of choice were Blue Charms, White-tailed Green Machines. Bombers and some Fall patterns such as Ally's Shrimps.
Syd Matchett of Trout Brook Fly Shop on the Northwest Miramichi said angling had been very quiet on the weekend and into this week.  Water conditions were good as there had been rain in the headwaters.  The problem was lack of fish.
Flies of choice were Undertakers, Shady Ladies, and Bear Hairs on no. 6 hooks.
Debbie Norton of Upper Oxbow Outdoor Adventures on the Little Southwest Miramichi said angling was still slow, but they had picked up two or three grilse, and had heard of a few more.  So this was more positive than recent reports.
Flies of choice were big ugly Marabous and White-tailed Green Machines.
So the question is: "Are we up for a challenge?"  Taking a look at this week's quotation below, it is time to get out and "on the water".
Don't forget to show your support for our sponsors, because without them, this column would not be possible.
Check out Deals 4 U in Miramichi for your grocery needs, and good Cuban cigars to celebrate getting back to the rivers. Drop by Mac's Seafood for Miramichi Smoke House Award Winning Smoke Salmon.
ANY FINANCIAL CONTRIBUTIONS TOWARD HELPING WITH THIS COLUMN ARE GREATLY APPRECIATED. Click here to donate now. A SPECIAL THANKS to all who made contributions last season.
If you would like to sponsor this column, give us a call at (506) 352-7668 or email .
[wp_bannerize group="doug2″]
Thought for the Week: "The trout do not rise in the cemetery, so you better do your fishing while you are still able." – Sparse Grey Hackle
—————————————————————————
Atlantic Salmon Museum
Hall of Fame 2014
August 8, 2014
DOAKTOWN – The Atlantic Salmon Museum in Doaktown, New Brunswick, will host its annual Hall of Fame Awards Banquet on Saturday, September 6th.
The Hall of Fame Awards Banquet is the museum's annual fundraising gala at which members of the salmon fishing and fly tying community are honoured for their contributions to the sport and inducted into our Hall of Fame.
In addition to the dinner, there will be both a silent and live auction taking place.  Items will include exclusive access to prime waters for the 2015 fishing season, various types of rods, reels and other equipment as well as limited edition paintings and artwork.
The inductees to the 2014 Hall of Fame are as follows:
Raymond Wells Woodill of Riverview, NB.  Raymond is a life time member of the Miramichi Salmon Association and a true ambassador for educating people on the importance of hook and release and conservation.  He is being inducted in the Angler category.
Robert Baker of Bathurst, NB. Robert has been the president of the Nepisiguit Salmon Association since it was formed in 1976 and has held monthly meetings in his home for over 35 years. The restocking of salmon to the Nepisiguit River can be largely credited to his efforts and dedication.  He is being inducted in the Conservationist category.
Merlin & Leslie Palmer of Parker's Ridge, NB. Merlin and Leslie have operated and been caretakers for the Burnt Hill Fishing Club since 1957. They embody true "Miramichi hospitality" and have hosted dignitaries from all over the world including US Presidents and the Prime Minister of Australia. They are being inducted in the Operators category.
Doug Underhill of Miramichi, NB.  Doug has authored 12 books, many of which encapsulate the pride, history and enjoyment of the Miramichi.  He is also very well known for his weekly column, the "Miramichi Fishing Report".  He is being inducted in the Outdoor Writer category.
Wavell Price of Priceville, NB.  Wavell, an avid fisherman and flytyer, was well known up and down the River for his many years of guiding.  Having guided for several outfitters including Pond's and Sutter's Lodge, he became head guide for life-long fishing enthusiast, Don Byrne.  He is being inducted posthumously in the Flytyer category.
For more information on the inductees and to reserve your tickets for the dinner, please contact the museum at 506-365-7787 or by email at , or visit our website at www.atlanticsalmonmuseum.com.
—————————————————————————
Book Launch: 160 years of Salmon Stories
YOU ARE INVITED . . .
The public is cordially  invited to attend  the  launch of a new book produced by the Central Miramichi Historical Society (in  partnership with the Atlantic Salmon Museum) entitled
160 YEARS OF SALMON STORIES –THE ATLANTIC SALMON   MUSEUM'S HALL OF FAME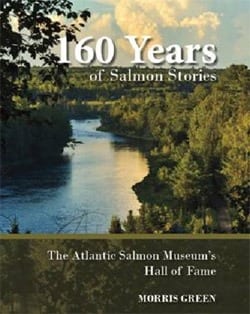 Where:  ATLANTIC SALMON MUSEUM, 263  Main Street, Doaktown
When:    SATURDAY, SEPTEMBER 6, 2014 – beginning at 1:00 pm
(refreshments and light snacks will be served)
With almost 400 pages of stories, photos and historical information about the Salmon Museum's Hall of Fame inductees, this hard-cover book honors the 128 men and women from the Miramichi Valley and beyond whose lives – and livelihoods – revolved around "the River." It's sure to be something you'll want to keep close by and definitely a book that will make a wonderful gift for someone with "roots" or fond memories of the Miramichi.
Just a sample of those from the Upper Miramichi area who are highlighted in this book include George Amos, Arle Bamford, Vincent Beek, Renate Bullock, Murray and Perley Calhoun, Danny and Emerson Carr, Fred Clowater, Oran & Esther Clowater, Wallace Doak, Geordie Donald, Ernest and Raymond Hovey, Gordon Hurd, Floyd Gaston, the Griff-Inns, Ralph & Phyllis Gilks, Vin Hunter, Ken Jonah, Ernest Long, the Lyons Den, Bert Miner, Frank Munn,  Donald, Tompey and Jack MacKay, Hedleigh McCloskey, Clint and Daisy Norrad, Hedley and Perley O'Donnell, Mavis (MacKay) O'Donnell, Frank Munn, D'Arcy O'Donnell, George Robinson, Cliff Rutledge, Clayton, Harold and Pat Stewart,  Fred and Vince Swazey, and Jack and Wilson Storey.
160 Years' of Salmon Stories will be on sale for $60 with all profits going to the Atlantic Salmon Museum.  Society members will also be available to take orders for additionalcopies.  Note:  If you have already reserved a copy, now is the time to drop in and pick it up. For more information, please contact any of the following members of the Historical Society:  Valerie O'Donnell (365-7924); Ann Storey (365-4529); Karen Swim (365-1105) or Peggy Green (365-7847).
HOPE TO SEE YOU THERE !
Atlantic Salmon Federation News – Friday, Aug. 22, 2014
ASF Rivernotes – An Interesting  August
~~~~~~~~~~~~~~~~~~~~~~~~~~~~~~~~~~~~~~~~~~~~~~~~
ASF Rivernotes is finding interesting patterns of salmon returns unfolding. Also special reports from Ungava Bay and elsewhere.
http://atlanticsalmonfederation.org/rivernotes/
ASF Research Blog Update – Time to check out the juvenile salmon
ASF researchers are electrofishing, and a Dalhousie student ends her summer work with ASF.
http://asf.ca/research-in-the-field.html
Ombudsman Says NB Water Classification Legislation Useless
~~~~~~~~~~~~~~~~~~~~~~~~~~~~~~~~~~~~~~~~~~~~~~~~
As a result of a question posed by the Nashwaak River Assoc., a searing report has been produced showing that the NB Government has not followed through with water protection. You can also download the report.
http://asf.ca/nb-ombudsman-says-waterway-legislation-useless.html
Outer Bay of Fundy Documents Now Available
~~~~~~~~~~~~~~~~~~~~~~~~~~~~~~~~~~~~~~~~~~~~~~~~
From ASF's oBoF Species at Risk page you can now download DFO's Recovery Potential Assessment document, and a Summary of Socio-Economic Impacts. These rivers include the Saint John and those to the west, as far as the St. Croix. Aquaculture is mentioned as a major threat. This is now the public input period, so your views can be heard.
http://asf.ca/outer-bay-of-fundy-salmon-consultation-under-sara.html
Spawning Bed Rehabilitation on the Rennies River in NL
~~~~~~~~~~~~~~~~~~~~~~~~~~~~~~~~~~~~~~~~~~~~~~~~
An interesting project has reached completion on the Rennies River in NL. Read more.
http://asf.ca/completion-of-spawning-bed-project-on-rennies-river.html
NL Undertakes Independent Fracking Review
~~~~~~~~~~~~~~~~~~~~~~~~~~~~~~~~~~~~~~~~~~~~~~~~
Many remain concerned about the impact of fracking waste on water tables, and waterways eventually. NL is stepping back from fracking, to learn more.
http://asf.ca/nl-undertakes-fracking-independent-review.html
Fish Kill in PEI
~~~~~~~~~~~~~~~~~~~~~~~~~~~~~~~~~~~~~~~~~~~~~~~~
Another episode of fish kill, in the North River.
http://asf.ca/salmon-found-dead-in-pei-s-north-river.html
UK Salmon Organization Calls for New Limits on Salmon Exploitation
~~~~~~~~~~~~~~~~~~~~~~~~~~~~~~~~~~~~~~~~~~~~~~~~
Salmon returns are greatly depressed this year in Scotland, and a call has been made to institute further conservation measures.
http://asf.ca/uk-s-salmon-and-trout-association-calls-for-new-limits-on-s.html
From MSA Thursday August 21/14
Hi All
Finally some good news to report. The high water and cooler water temperatures have seemed to bring in some new fish to the system. The Millerton trap was pulled on the weekend due to high water but was put back in on Monday with 4 fish caught Tuesday and 11 salmon and 11 grilse caught yesterday. Cassilis also had 3 salmon yesterday which is good news after a lot of zeros. And all of the fish were fresh with sea lice! This supports the reports I have been getting all week of people catching fish on the Southwest and the Northwest. We just wonder how many would have been caught on the weekend had the traps been in. Looks like the fall run has begun!
The Northwest Barrier saw an increase of 8 fish during the week of Aug 11th – 17th – all grilse.
Northwest Barrier as of August 17th 2014
| | | | | | | |
| --- | --- | --- | --- | --- | --- | --- |
|   | Grilse(to 63cm) | Small Salmon(64-84 cm) | Large Salmon(>85 cm) | Total Small& Large Salmon | All Atlantic   Salmon | BrookTrout |
| 2014 to Date | 130 | 38 | 20 | 58 | 188 | 790 |
| Previous Year to Date | 140 | 92 | 104 | 196 | 336 | 1068 |
The Dungarvon Barrier also showed a slight increase – 4 grilse and two large salmon made their way to the barrier.
Dungarvon Barrier as of August 17th 2014
| | | | | | | |
| --- | --- | --- | --- | --- | --- | --- |
|   | Grilse(to 63cm) | Small Salmon(64-84 cm) | Large Salmon(>85 cm) | Total Small& Large Salmon | All Atlantic   Salmon | BrookTrout |
| 2014 to Date | 68 | 15 | 41 | 56 | 124 | 27 |
| Previous Year to Date | 190 | 92 | 129 | 221 | 411 | 59 |
Hopefully next week's numbers will confirm the fall run.
DFO publishes the Northwest and Millerton trap and the Northwest barrier numbers on their website as of the middle and end of each month. The cumulative numbers as of the middle of August are shown below. You can find a link to this site on our Home Page under Quick Links.
Cumulative counts to date of Salmon as of Aug 15th 2014
Cumulative counts to date of Grilse as of Aug 15th 2014
(* indicates fewer than 5 years are available to calculate the mean)
1964 MSA Contest Winners
A copy of the Daily Gleaner printed on June 4th 1964 arrived in the office this week courtesy of Rick Cunjak. On page 17 was a great story entitled Miramichi Salmon Association's 1964 Contest Concludes. Many of the winners names are current friends of the MSA and of special note is the eight year old winner – Debbie Blackmore of Sillikers – turns out to be none other than MSA Director Debbie Norton, a now retired teacher who runs Upper Oxbow Outdoor Adventures in Sillikers.
To read the full story go to http://www.miramichisalmon.ca/1964-msa-contest-winners/
Hatchery Renovations
Hatchery renovations are almost complete with the final electrical work being done and the tanks in the big greenhouse being painted. The recirculation system is ready to flip the switch but we will do lots of testing before we are up and running in all buildings. Very exciting!
Fredericton Dinner
The 19th Annual Fredericton Conservation Dinner is taking place Tuesday, September 16th at Fredericton Inn, where we are again honouring an individual who has served the cause of salmon conservation with great distinction.  It is both a pleasure and an honour to receive the Hon. Keith Ashfield, Member of Parliament for Fredericton and past Minister of Fisheries and Oceans Canada as our special guest, and we look forward to his message regarding the importance of the wild Atlantic salmon to New Brunswick, both in economic and environmental terms.
For tickets, please contact Jo-Anne Linton at ; or call 506-457-2220.
A Call for Submissions
The SalmonLetter welcomes submissions from its readers.  One of the contributions this publication can make to the conservation of the Miramichi salmon is to collect river stories to record the history of the river.  These stories (and photos) may assist in the scientific work on the river and will help to unite the conservation community throughout the watershed.  Please send submissions to
A Call for Auction Items
The MSA has up to seven fund-raising dinners annually and we would sincerely appreciate any donation of auction items from members.  Handmade items such as flies, wood and other craft items, prints, old fishing tackle, etc.  All donations will be acknowledged by a tax receipt for the reasonable value and will count towards Life Sponsorship levels. Please contact to make a donation.
The MSA Staff is here to serve and work with you, and we welcome any comments, criticisms and recommendations you have to offer.  We enjoy meeting MSA members whenever we have the chance to do so.  Please always feel free to contact us whenever we can be assistance.
Yours in Conservation,
Nola Chiasson
_________________________________________
Until next week
TIGHT LINES
DOUG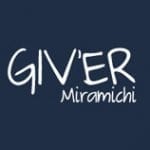 Giv'er Miramichi is about "What's up, what's new, what's happening". We are focused on building people up, supporting one another and celebrating our successes.