A Conversation with Artist, Vanessa Pesch
Giv'er Miramichi recently sat down with local artist, Vanessa Pesch for a candid chat about her work. This 23 year old has been painting for only five years and pursuing art as her career since just 2012 following her graduation with a bachelors degree in philosophy, but already she's experiencing success and is certainly one young artist to watch.
When did you start creating art? Why do you do what you do?
Pursuing art as a career is something I had long envisioned, but didn't always have the courage to pursue, largely because of that nagging question: "Can you actually make money from it?" As I soon discovered, it's not always (or only) a question of money; there's the larger concern of fulfilment and sense of purpose. You can always find a way to make enough to pay the bills, whether through odd jobs or part-time employment, but it's a lot more difficult to find a meaning to your life. Once you've found it, I think you have a responsibility to yourself to pursue it and see where it goes.
What styles or mediums do you work in?
I work exclusively in oils. I find them easier to work with than acrylics or watercolours, mostly because of their long drying time. Plus their rich hues and texture are unparalleled. My painting style is often referred to as "painterly", where the emphasis is creating an image that can only be made through paint.
What inspires you as an artist?
I draw a lot of my inspiration from my immediate surroundings, places I travel through or things in everyday life that catch my eye, like facial expressions, or a group of trees. Sometimes my inspiration starts from a sentiment (particularly for portraits), which I then try to put into visual form through a series of sketches.
What challenges have you faced?
Trying to understand how the art world works; there's so much conflicting advice on what one should or shouldn't do as an artist, and it takes time (and asking lots of questions) to distinguish the good advice from the unhelpful. There's also the endemic challenge faced by most creatives—self-doubt. Learning not to listen to it is a skill worth learning.
Did you receive any formal training in art?
The only training I've had were from the four non-credit painting courses I took at the Ottawa School of Art, which helped me quickly learn the basics of oil painting (like colour mixing, paint application etc.). Their excellent instruction probably saved me several years of learning these fundamentals through trial and error.
Do you have any advice for young artists who believe they have talent and are hesitant about showing their work?
I don't think displaying your work is something that should be pushed if you're not comfortable with it. Just keep working at your art until you get to a point where you feel comfortable showing people … or until you run out of room to store your work.
What is the best advice you've been given?
Take every piece of advice with a grain of salt. Well-meaning people are going to bombard you with unsolicited advice about how/ what/ where you should paint. Evaluate what may work for you, and discard the rest.
What accomplishments have you achieved?
So far, this year has been the most fruitful, with three solo exhibits. The latest one just opened this month in Saint John, at Market Square. I exhibited The Vibrant Eastern Canadian Landscape series at Galerie ARTcadienne in March, and this series is currently on exhibit at Market Square until September 15th. In June, I displayed a portrait series entitled Between Takes at Moncton Gallery, in Moncton City Hall. It is exciting when you see your paintings hung on a gallery wall, considering the many months it took to get them there.
Describe your creative process.
Most often, I begin a painting by first doing a sketch to figure out the best composition. I then scout for reference photos to get a sense of the colours and light and shadow, which is where my photography hobby becomes very useful. In my mind's eye, I then alter the photos to suit the sketch, which means taking a sky here, a tree from there, omitting visual clutter, and making up the rest.
Other times, I will already have an image in my mind of a scene I'd like to paint, and if the image is clear enough, I will paint it without need for a reference. Though this is something that has only happened in the last year or so, as I've gotten better at visualizing and manipulating images that only exist in the mind.
On average, it takes me one to two weeks to finish a painting, depending on the complexity. I have three easels that are always occupied with works in progress. I tend to have anywhere from three to five paintings going at the same time. Painting involves an odd sort of problem-solving—when a painting just doesn't look right, the problem, let alone the solution, is rarely apparent. In those cases, I find it best to leave it aside, ruminate on it, and come back to it when I've figured out how to proceed, which can take anywhere from hours to weeks. You have to be patient, and in the meantime, keep working on other paintings.
What is the biggest misconception about being an artist?
That all I do is paint. In reality, making art is only a fraction of what I do day-to-day. Applying for exhibitions, writing grant proposals, researching galleries, transporting artwork, designing promotional materials, doing self-promotion, collecting reference material etc. Half of my time is consumed by these (rather necessary) activities behind the scenes.
Vanessa's paintings are on display and for sale at Water Street Gallery, Napan Baykery, and through her website, www.vanessapesch.com.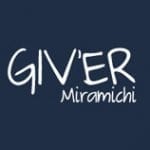 Giv'er Miramichi is about "What's up, what's new, what's happening". We are focused on building people up, supporting one another and celebrating our successes.