New Fitness Craze Bounces into Miramichi
When you search Kangoo Jumps on YouTube, you find pages of videos of people bouncing in springy shoes that look like a cross between a ski boot and a roller blade. The activity best known on international levels, and very competitive in places like Germany, Russia and Hungary, is slowly trickling to Canada. Toronto has a large club, and now Miramichi has the only Kangoo Club in the Maritimes.
Natalie Cable leads basic fitness Kangoo classes on Tuesday and Thursday evenings at Carrefour Beausoleil and Peak Performance.
"I am the only one in the Maritimes thus far doing the Kangoo Jumps classes," Natalie says. "The closest areas doing it are Toronto and Calgary."
One of the main benefits of exercising in Kangoo Jumps is because their patented Impact Protection System reduces impact by up to 80%, making them the lowest impact shoes in the world, protecting your knees and joints.
"I was never a person to go to the gym, but I loved them since I strapped into them," Natalie says. "In April I caught a clip on TV that showed Kangoo Jumps. I searched and contacted the International Trainer, Dorina Rigo from Hungary, who set up the Toronto club. She assisted me along the way with the initial training workshop, and got me set up to start here in Miramichi. I am now waiting to get certification for additional Kangoo training programs such as Boot Camp and Power."
People always ask if it is difficult to learn how to use Kangoo Jumps and Natalie responds, "No, not at all. You will feel comfortable and safe after only a few minutes. The Jumps are very stable since they are wider than your foot."
Kangoo Jumps can be used for running, aerobics and all types of exercise. The basic shoes are rated for weights up to 220 lbs and a Pro series is also available for heavier weights. Exercising in Kangoo Jumps burns about 1200 calories per hour and people find they are able to work longer, sleep better, and feel less tense.
"Everyone loves the workout they get, and my participants are noticing they are getting toned quickly," Natalie says.
Interested participants for the one hour Miramichi classes must pre-register. Each class cost $10 which includes Jumps rental or $5 if you own the shoes. Kangoo Jumps cost $309 to purchase and take about two weeks for delivery. Class participants must bring water and socks that go up to mid-shin.
To register for a class or if you're interested in becoming an instructor contact Natalie at or telephone (506) 251-2526. For more information visit www.kangooclubcanada.com.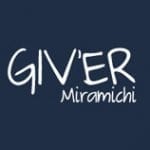 Giv'er Miramichi is about "What's up, what's new, what's happening". We are focused on building people up, supporting one another and celebrating our successes.