Growing Miramichi: One Garden at a Time
Growing Miramichi: One Garden at a Time
by Joash Schumpelt
Today I want to tell you about an amazing place in our community. It's a place where I go to save money and to get healthy. It's where I see my friends and make new ones. Sometimes we eat together and, very frequently, we work together. We show off what we are working on with the pride of new parents, and I learn new things every time I go. When I leave, I leave with an inordinate sense of accomplishment and pride, but I constantly feel the need to go back because I could do things so much better if only I had the time! Now this place is not a gym or an arts and crafts club. It's a community garden, and I wish Miramichi was full of them.
My particular community garden is called The Big Ferry Road Community Garden because, yep you guessed it, it's on Big Ferry Road in Douglastown. This is the third summer since our garden began, and it is really growing strong! Over the past three years, our garden has doubled in size and in the number of members so this year, our garden looks pretty spectacular. The vegetable-to-weed ratio is the best it has ever been! (And unlike our first and second year, we might see a proper zucchini-to-veggie ratio, too!) It's a beautiful place to be and to work. A visit to the garden is a welcome change to my normal routine.
Practically FREE Fresh, Organic Vegetables
This year at our garden, each member was given a 12 by 10 ft. plot of organically pre-fertilized and tilled garden to call their own, and in those plots we plant our vegetables, flowers, hopes and dreams, and watch them grow into peas, carrots, tomatoes, radishes — and this year, LOTS of kale! How does it work? The garden is run by a committee made up of voluntary garden members. We pay an annual membership fee of $20, and each member is required to spend five hours helping to maintain the garden grounds every year. For such a low cost, we get our plot and all of our seeds as well as access to garden tools and water.
Earlier, I said that I wish that community gardens were all over Miramichi — I really do! I think that community gardens can help solve lots of problems that we have. For example, vegetables can be expensive and many struggle with health issues and financial hardships. Community gardens make it truly easy for people to grow their own vegetables and have them fresh, organic and practically for free! You also get a fair bit of exercise and enjoyment out of the growing process, and as a father, it really is great to see my sons learning about food from the ground up!
Connect Through Gardening
Still, the most important part of community gardens is the first word and not the second — community. I came to Miramichi a complete stranger. And outside of my job, I have met more people at the garden than anywhere else. Gardens are a great place to meet people. You meet them, their pets and their gardens all at the same time! You really get to know someone that way! Hmm, forget singles' bars; we should have singles' gardens. Is He/ She ready for a relationship? Well what do their yellow beans say?
We grow together and we dream together as we garden. Our garden is full of spectacular people many of which I wouldn't have met if not for the garden! And as I drive across beautiful, green Miramichi, I think we need more gardens for our communities. As a city, we are very spread out, and we don't have the ample support structure of community and rec centres to provide places for young and old to connect. Gardens can do that and make us healthier and wealthier at the same time.
Bringing Miramichi To Life
Our garden was started when Sovereign Community Church decided to use some of their amply mowed lawn for something useful. (For disclosure sake, I am the pastor at said church.) So the church sponsored The Big Ferry Road Community Garden on an acre of their property. But other community gardens have been started in abandoned lots, in backyards and seniors' centres, or anywhere you have a spare bit of lawn that you are tired of mowing. They are relatively easy to start and great for your community — and waistline. The extra veggies can be pickled and donated to food banks and the extra zucchini can be baked with chocolate into some of the most delicious muffins known to man.
I love Miramichi, and I long for it to be a city that is full of life and proud of its community and accomplishments. I wish that the whole city could experience the sense of community and joy that we share as we work and grow together at our community garden. So if you are interested in starting a garden, we would love to help! All it takes is time to plan and dream. And there are plenty of people in this community that are excited and very capable of making these dreams a reality.
Start a Community Garden Today!
If you are interested, email me at or give me a ring at 625-2568. You can also contact Lucie Chiasson at . She works with the Food Security Network and has been a wonderful help in getting our garden in the ground and in the community. It is my hope to one day see community gardens across Miramichi, up and down the river, and on either side. But we can't do that all at once. It takes one garden at a time, simply planted and shared with others to grow good things to eat and enjoy. The next garden could be yours!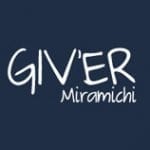 Giv'er Miramichi is about "What's up, what's new, what's happening". We are focused on building people up, supporting one another and celebrating our successes.