The Central New Brunswick Woodmen's Museum hosted their annual Professional Lumberjack Competition on August 16th.
The event features Jack & Jill Sawing, Axe Throwing, and a variety of sawing, chopping and splitting competitions as well as the Kettle Boil, activities for kids, a BBQ and dinner.
NEXT YEAR!
Join us on AUGUST 15, 2015 for the sounds of the crosscut, chopping and saws, for a competition that will keep you in suspense right down to the very last chop!
Or drop by any time during the summer to tour the museum and visit the Maritime Lumberjack Association Hall of Fame.
Follow Us!
Facebook: www.Facebook.com/WoodmensMuseum
Or on the web: www.WoodmensMuseum.com
Click to enlarge the photos below:
Paul Woodland Woodmen's Museum 2014 MASTERS Champion. Paul holds the world record in hot saw. Paul has also competed internationally, so it was an honour to have him here at the Woodmen's Museum on August 16th.
Melanie Bourque "Woodmen's Museum 2014 Lumberjill Champion", shown here with her daughter accepting the award from Darren Colford, organizer of the Lumberjack Competition. Melanie is also featured on the September cover of Giv'er Miramichi magazine.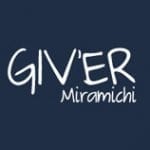 Giv'er Miramichi is about "What's up, what's new, what's happening". We are focused on building people up, supporting one another and celebrating our successes.